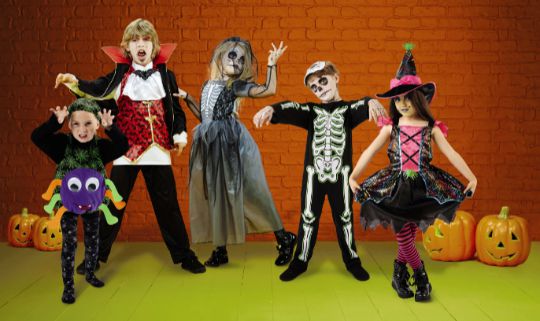 It's no secret that I am a big fan of Halloween, and I am so excited about the sneak preview we have of Aldi's Halloween range! It's in stores from 1st October, and there are tons of ghoulish goodies to be had and all at the amazing prices we are used to from Aldi. Want to be the first to know what they will have? Read on if you dare...ah hahaha!
If you are taking the children Trick Or Treating then the Children's Halloween Costumes from Aldi are only £3.99 each, and you can choose witches, skeletons, bats, vampires and other creepy creatures. My toddler will be joining us for his first Trick Or Treating this year and I think the cute spider costume will be just the right level of scary for him. If you are putting together your own outfit then there are extras like the Halloween Tutu Set for £1.99 and Childrens' Halloween Tights in black and red stripes for £1.29.
You will need something to collect your Treats in, and the Trick Or Treat Tins will do the job nicely. There are four different designs, and I'm tempted by the Frankenstein's Monster one for myself, as it makes a nice change from the pumpkin one I normally use.
If you are having a Halloween Party then there's a range of partyware from 89p to serve up all those revolting nibbles on. (Cheese puffs as witches' fingers, jelly worms, gingerbread men skeletons... I could go on). Just remember to invite us ;)
There are quite a few houses on our street that get decorate for Halloween, and as it's at half term it's great fun for the kids to do. I think it would blow their minds if we got a big Inflatable Halloween Character to put in the front garden, and the ones from Aldi light up to spook the neighbours. I only know that they are £12.99 each but I haven't seen pictures of those yet, and I can't wait!
Do you know what I am looking forward to seeing the most though? The Childrens' Halloween Pyjamas for £3.99. I know a lot of us like to buy Christmas PJ's so why not Halloween ones? It's a wonderful idea if you ask me.
I have already been asked about my pumpkin carving plans and if I am doing a spooky gingerbread house again this year, but I just do it all for the kid's, honest. ;)
All these Halloween goodies are available in stores only and are while stocks last, so I will see you in Aldi on 1st October!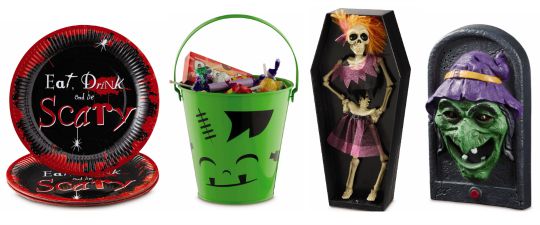 Partyware from 98p, Trick Or Treat Tin £1.79, Dancing Skeleton £7.99, Musical Doorbell £6.99