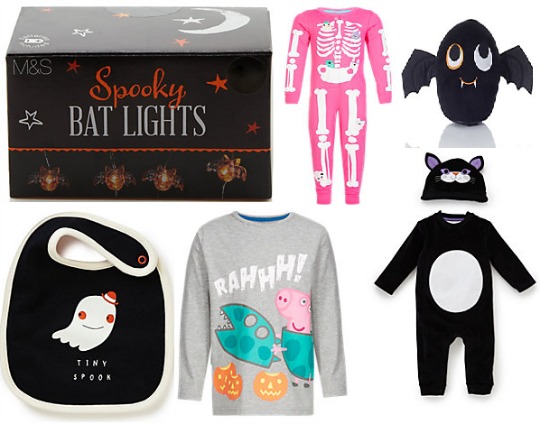 We are nearly into October already. The year has gone by way too quick for my liking. If you haven't thought of Halloween yet, then I suggest having a little nosey over at Marks & Spencer, where you can grab Halloween items from just £1 (80p with code). Simply pop SEP14A72 into the promo code box when at the checkout stage and you will get 20% off your spooky items.
My children adore Halloween as much as they do Christmas and I love M&S more than I love my children. That's a joke, but I do have a thing for them. Shimmy on over to M&S, there stuff is cute and very child friendly for the spooky occasion.
If you are planning a Halloween party then what about this hilarious Pin the nose on the Witch game* for only £2.80 when you use the promo code, mentioned above. Or, how about a few packs of these Ghoulish Glow Sticks* for only 80p?
Clothes wise there's a really cute Cat onesie and hat* now only £9.60 or this adorable Peppa Pig top* for a little nipper at £6.40 to £7.60.
Whatever you choose, you can save the £3.50 delivery charge by collecting it from your local M&S store for free.
Head over to our vouchers section where you can find other M&S promo codes as well as some for other retailers.