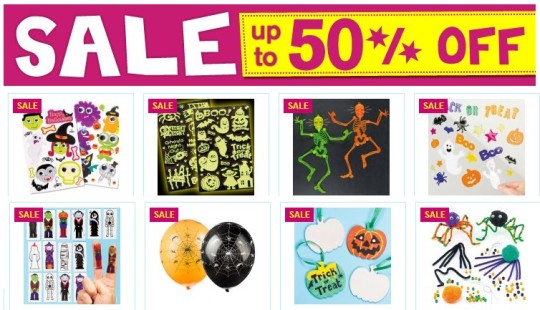 If you're planning ahead to the end of October and trying to pick up some decor on the cheap, Yellow Moon is a good place to get started with up to 50% off on their Halloween Crafts and decorations .
Before kids we used to have fabulous fancy dress Halloween parties, but with the advent of small people, that's kind of gone the way of the dinosaur.  We may have to start small again, with the less scary looking things, and get everyone in on the decorating action!
Yellow Moon have everything from Halloween Wiggle-Eye Stickers* for 99p and Halloween Glow in the Dark Stickers* for a bit of ooh in party.
You can paint every face at the party with the Halloween Face Painting Kit* for £6.99 (it's currently £10 at Debenhams) and there are pumpkin carving tools and decorations for £1.99.
Delivery is £2.99, although if you buy over £50's worth of stuff, it's free.