Halloween Bits From Find-Me-A-Gift.co.uk - Review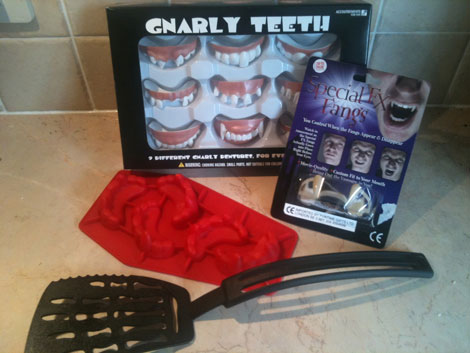 Everyone's going a bit Halloween mad here in the PlayPennies office - plates with the remains of Lynley's pumpkin pie, weird and whacky teeth, fake blood (at least I hope it's fake) and other such ghoulish things litter our desks.
It's all a bit too much fun really, so we shipped out some Halloween bits and pieces from findmeagift.co.uk to our reviewing mum, Sam.
"I was rather excited when I found out I was getting some Halloween things to review," Sam told us, "when I was little we used to have family parties on Boxing Day at my nan's house, manky false teeth and big hairy werewolf feet were the order of the day."

We knew that Sam wouldn't be disappointed with the halloween gifts we'd sent her from findmeagift.co.uk because the main theme was...TEETH!
"The box arrived; I opened it and there were TEETH! LOTS of TEETH! I was back in Boxing Day family party heaven. In the box was also a skeleton hand spatula, some special effects vampire fangs and a vampire teeth ice 'cube' rubber mould thing."
The spatula retails for £4.99, the ice-teeth mould £6.49, the vampire fangs £7.99 and the gnarly teeth £3.49.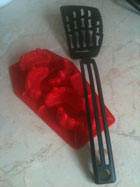 "The first thing we (me and the kids) did was fill up the ice cube teeth tray and put it in the freezer - the mould makes five ice teeth things.
If you're going to have a halloween party or your kids go through ice cubes at the same rate of mine, then you'll have to make lots in advance," Sam suggested.
We thought this was an excellent idea, failing that...have more than one cold blooded ice-teeth trays.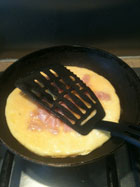 We weren't really sure why on earth you'd want a skeleton hand spatula, or whether it was any good, Sam soon put us straight on that,
"The skeleton hand spatula...GENIUS! Not only is it far more fun than your bog standard plastic or wooden one, but it's one of the  most EFFECTIVE spatulas I've ever used!
I don't know if it's something to do with the angle and contours or the handle, but it's fabulous for flipping omlettes (not very halloween I know!)."
We were all very intrigued to hear about the special effects vampire fangs, because they actually came with proper detailed instructions as to what you had to do with them!
"I found the vampire fangs quite tricky.  Basically, they have two 'grips' that contain dental putty and a frame that the two front fangs attach to," Sam explained.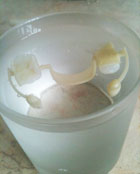 "The instructions say you mut put the fangs into a glass of hot water to soften the putty, then position everything correctly in your mouth, bite down, take them out and put them into COLD water to set the putty hard again."
Well we were exhausted just listening to that lot!
Sam went on to tell us that it was more than a bit fiddly trying to make sure everything was in the right place in your mouth, and that she had to use boiling water to get the dental putty to go soft -  you know when this is happening as it goes clear instead of white apparently.
And finally...
"If you just want a few cheap bits and pieces to mess around with on Halloween then all of these things are perfect, the gnarly teeth caused a great deal of hilarity and provided us with hours of amusement," Sam concluded, "the kids kept coming up to me with daft looks on their faces, not saying a word, then grinning to reveal the most hilarious teeth!"
Well there you go then, if you want some Halloween fun that won't break the bank then hot-foot it over to findmeagift.co.uk.