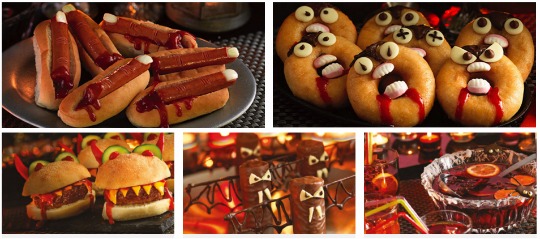 This year lots of shops are really going all out for Halloween, much more so than last year, and the efforts from Co-Operative Food are really great this year. In store they have free tear-off recipe sheets so that you make all sorts of fun Halloween party treats, and you can also get all the recipes online.
They also have printable bottle labels so that you can make your Halloween drinks look extra spooky, a special Spotify playlist for your party music, and video tips for carving pumpkins.coop
From the party food I think I will be trying the Demon Doughnut Damien, but those Freddy's Freaky Fingers are just too realistic for me to even think about eating!
It all looks so much fun for the kids and adults alike, and unlike lots of Halloween party food these ones include easy simple instructions plus everything you need is sold in your local co-op so you don't have to go hunting for fancy supplies.
You can find all of the Local Shop Of Horrors Halloween recipes and more on The Co-Operative Food website*. Happy Halloween! :)