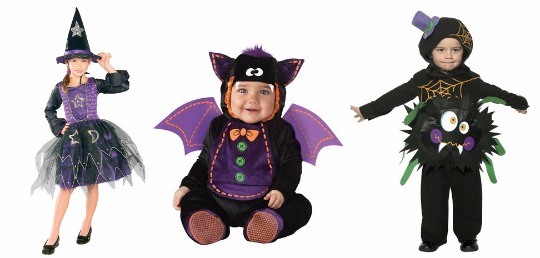 Still not sorted out your Halloween costumes yet? I haven't had a chance to get ours yet so I'll be taking another look at the Angels Fancy Dress website later. Right now they have a special offer of free standard shipping plus a free 'Spooky Gift' with all orders until 2pm on Monday so that you can pick up an amazing costume without having to drag the kids to the shops.
Angels Fancy Dress are my favourite place to look for costumes because they have by fat the best selection I have seen, and if you want something really different then they are the place to go to. As well as tons of baby and children's costumes they have a huge range for adults so you can get yourself all set up for trick or treating or that Halloween party.
The children's Halloween costumes start from just £4.99 so with the free delivery and free gift you are getting a bit of a bargain there I think! The free delivery and free gift are automatically added at the till, so there's no code to add. I wonder what the gift is going to be? Happy Halloween folks!