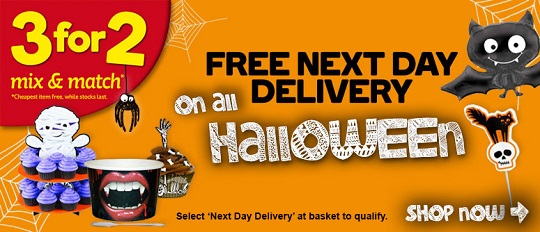 This is a seriously awesome special offer from Hobbycraft and a total win for anyone out there who hasn't sorted out their Halloween bits and pieces as yet. They have launched a last minute free next day delivery promotion just in time for Halloween.
The next day free delivery promotion is live until midnight tonight and includes all Halloween goodies. I don't think that this applies to any old thing, just items in their Halloween section. So check that you buy items that fit with the promotion.
Hobbycraft also have a three for two on their Halloween goodies at the same time so you can really stock up on awesome. Just add any Halloween product to your basket and add Next Day Delivery at the checkout and you will get your free arrivals in time for Halloween. But hurry! It ends at midnight tonight!