It's here – Halloween! If you're partying it up this weekend, here are a few goodies you might want to add to your décor.
Draw attention to your food and drinks with these Screaming And Flashing Skull Drinking Straws. They are fabulous screaming skulls that light up and flash whenever you take a sip through them. Theyre easy to unwrap and some of the packaging is recyclable, which is always a bonus.
The Screaming Straws are not so loud as to drive you mad which is especially helpful in a room full of Screaming Straws, and you can turn them off by blowing into them.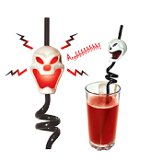 We gave them to PlayPennies mum Tammy to see what she and her kids thought about these novelty items, and they found them pretty amusing – Tammy's five year old loved it and insisted on using it in every drink every day for a week. They all felt these were "pretty darn cool", and would make a fab addition to a fun Halloween party.
The down sides are that they are novelty, and Tammy wasn't sure how long they'd last. "It's the kind of thing you can stick in your cupboard and use year after year if they last, but," she said, "How long before they'd lose that novelty and just end up landfill."
Additionally, at £3.49 a pop, you'd probably only have a few at a table because it'd work out pretty pricey to have one per guest.
For those who don't get a screaming straw, the party's not a total wash-out: How about some vampire teeth ice cubes?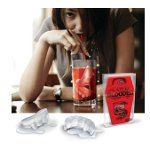 Tammy actually laughed at these – and I'm not sure if that's a good thing or a bad thing. You get five slots in one vampire teeth mould. You can use food colouring or coloured juice to make bloody vampire teeth ice cubes, or normal ice cubes for your normal drinks. Or if it's a grown up party, nothing like some vodka jellies in your moulds.
While these are pretty funky and Tammy tells us the mould spits the teeth out easily without breaking them and can be used over and over again, there's a massive downside – they're expensive. At £7 for five icecubes, you're either going to need a few ice trays to really make an impact, or you're going to have be really organised and start making ice a few days before the party.
Every good party needs some atmosphere, and once the visuals are taken care of, a bit of sound can go a long way to creating a mood. Find Me A Gift have a sound effect machine with Horror Sound Effects, and this is currently on sale. It's reduced to £5.99 from £8.99, making it quite a good little gadget.
"

Here we have a fun sound machine packed with terrifying noises that will amuse you and your kids for hours on end", says Tammy. It didn't work at first, but once she popped the watch-style batteries out and back in again, it was fine. In fact, in Tammy's words, the sounds "belched out in all their glory."
The sound effect machine has 16 sounds (and there's a button on the website for you to listen to them) from cackling laughter to blood curdling screams, creaking doors and ghostly 'ooh-ooh's', there's loads of fun to be had with this. I'm thinking particularly of scaring away trick or treaters!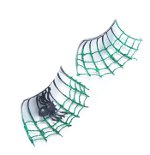 The perfect hostess has to look the part, so here we have a set of False Eye Lashes, complete with spider to add the final touches to a witches' costume. These are also on sale and are now only £2.49.
These didn't work as intended for Tammy. She has really sensitive eyes and they hurt her eyes. None the less she thought they were great, so she stuck them on her eyebrows instead. It's Halloween after all – where they go doesn't really matter too much!
Tammy felt these were great, despite not being something she can use in the 'right' way. "I think they would put a fab finishing touch on a Halloween outfit or just add a spooky edge to a parent pootling along on the trick or treat run."
The Spider Web False Eye Lashes are plastic with a self-adhesive strip, so you don't need any messy glue.
Tammy's final thoughts?
Find Me A Gift has really found some fun stuff that is lots of fun and decent quality.
Delivery is £1.95, unless your total is over £30 then it's free.