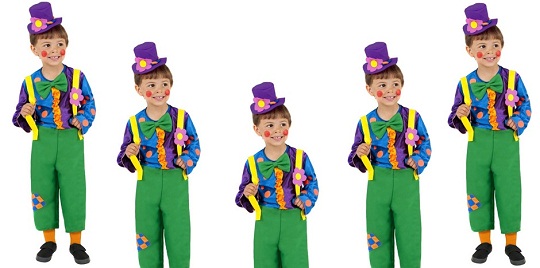 It is Halloween on the 31st of October. As it is every year! For the past three years we've gone trick or treating. But this time around we're going to a children's party. My son loves getting dressed up. He has half a wardrobe full of costumes, and wears them whenever the mood takes him. Like going to the supermarket dressed as a penguin, or to the park in pirate costume.
There's a costume that he has that I thought I'd review as it makes a great alternative to scary types of Halloween costume. Interestingly, that's the one sort of outfit he really doesn't want to get dressed up in.
It is a clown costume. Specifically, the Mr Brighty Buttons costume (£17.99) that we got from Angels Fancy Dress. At least our one is, it is possible it is undergoing a name change as the costume is called Mr Brighty Balloons Clown. I rather prefer Buttons though, and that's what my son insists he is called when he has it on.
The costume is an all-in-one outfit, with fake braces. It also comes with a fabric 'top hat' - be careful in storage of this as I found it crushed easily. The material is bright and cheerful, with lots of strong primary colours. I've given it a hand wash after it was worn a few times, and it came up looking fresh and bright afterwards.
The instructions say sponge clean only, but I found that really only works for a while. The felt type fabric on the braces, for example, did start to look dingy.
My son absolutely refused point blank to wear the hat as the flower on, which looks purple on the photo, is definitely pink. Possibly an odd choice of colour given how sensitive boys get to this as his age - the costume is a medium for ages 7 to 9.
As such the costume is too big for him (he is six and a half) but nothing that rolling the sleeves up doesn't cure. The trousers are meant to be short anyway, so on him they just look normal.
I don't think that £17.99 is expensive for a good quality costume. Most of my son's dress-box is full of outfits I've bought for around the £10 mark and the seams are usually full of loose thread. Also, my other bugbear is the use of Velcro fasteners. On cheaper costumes with flimsier material, these are usually bulky things that create a weak point and are generally the first part of the costume to come apart. I'm pleased to say that this is not an issue on this costume.
Overall, it is a great outfit, but I do wonder at it being targetted at boys. It doesn't seem at all gender specific to me, and girls love to wear it when they come to visit.