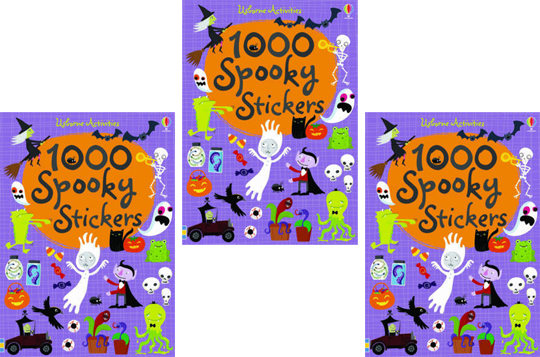 The Book People are selling Usbourne's 1000 Spooky Stickers book for £3.99 rather than its recommended list price of £9.99.
Do you shop at Tesco?  Have you been to your local store recently?  Does yours have tins of Christmas chocolates, piled floor to ceiling, the moment you walk through the doors, and an entire aisle dedicated to all things edibly festive too?
Mine does and we'd all be forgiven for wondering what on earth happened to Halloween, because there wasn't a hint of anything spooky, witchy or pumpkin!
We've ticked 'back to school' off the list, next up on the festival agenda is Halloween before we launch straight into Bonfire Night - I'm sure we'll have our annual Halloween reviews coming along soon!
If you want to give a youngster something different to mark Halloween, other than the usual sweets and chocolate, then this 1000 Spooky Sticker book may just be the thing you're looking for.
There aren't any free delivery codes floating around at the moment, so single item delivery is going to cost you an additional £1.95 - if I come across one though, I'll let you know.
Happy spooky sticking!