Fashion Union Discount Code: 40% Off Womens Knitwear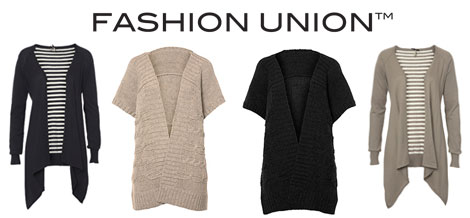 If the long winter nights, and plummeting temperatures, have you hankering after warm cosy jumpers to snuggle into, then this Fashion Union Discount Code is just what you need.
Discount: 40% off
Discount Code: FA10EP9
Applies to: Womens knitwear
Expires: Midnight 11 November 2010
Click HERE to wrap up warm with Fashion Union
I always have a HUGE love affair, every year, with my warm winter jumpers.
Hauling them all out of the cases after they've been packed away for the summer, is like being reunited with old friends you haven't seen for a long time.
If you're old knitted friends have seen better days though then perhaps now's the time to make some new ones.
No, I don't mean get your knitting needles out and MAKE new ones! I mean have a browse around the virtual knitwear department of Fashion Union and take advantage of the 40% Fashion Union discount code!
Everyone's taste in jumpers, or jerseys...if you prefer, is different so I'll leave you to go on over to Fashion Union and have a look-see for yourself .  Not only that, it means I won't be tempted to buy any as I really do have more jumpers than I can shake a stick at!
Happy jumper shopping and DON'T forget to add the FA10EP9 Fashion Union discount code to your basket!