Me To You Valentine's Range Review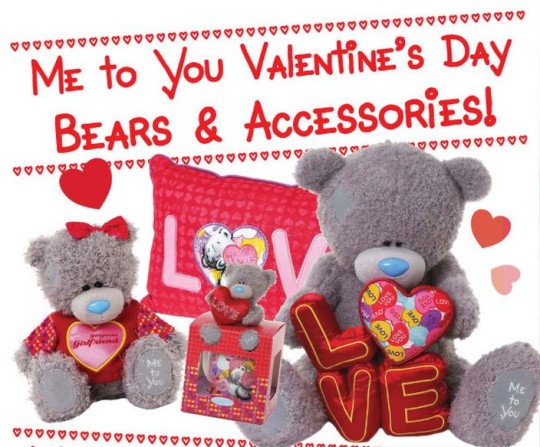 Me To You is an old favourite, and a favourite among the old and young alike. My girls love it as much as my sister does. Me To You just by its very nature is cute and cuddly and there's nothing not to like. It invokes an almost Pavlovian response, like chocolate - you see it, your mouth starts watering? Well, with Me To You, your cute radar reacts. Please tell me you know what I mean?
We were sent two items from the Me To You Valentine's range to tell you about, so read on and see what we thought about the Money Box (£10) and the Magnetic Love Words (£5).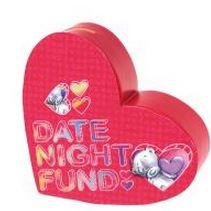 The Money Box from Me To You is really fabulous. I mean, it's a money box. I doesn't do much else, and sadly, it doesn't auto fill or anything like that, but it is cute and it really nicely made.
The text on the front says Date Night Fund with two Me To You bears in hearts. The whole box is red in colour and perfectly Valentines-y in theme.  While heart shaped, one side of the heart is ever so slightly less rounded than the other so that the heart lies on its side. It is an incredibly sturdy item. I would have thought £10 is a bit much, looking at it in a picture, but it's size and weight actually change my mind. It's really nicely made, and heavy enough that it won't flop over all the time.
The money slot is a nice size - you can get your £2 coins in without any issues, and folded up notes too, if you have any of those. On the side that the heart rests on there's a large white coin release slot with a good seal so that it comes out easily enough, but wont slip out or anything. We wouldn't want you to lose money out of your date night savings fund.
The heart is a great size too - you will definitely have enough in there for a good night out if you only put silver coins in there.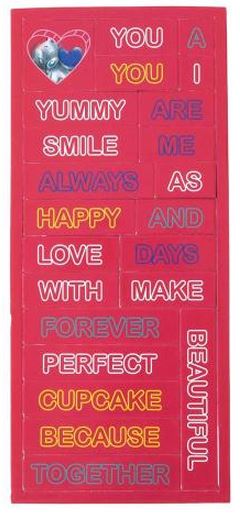 The Magnetic Love Words is a set of 22 magnetic words and a little Me To You Bear, making 23 magnets in total. Here you will find words like yummy, smile, always, happy, love, perfect, beautiful, cupcake and useful words like you, I, are, me, as and so on.
The magnetic words come in a large rectangle and are really thick. I thought they might be two layers, but no, they are just really thick and durable. They stick to any metal surface, and are fun if you want to leave love messages for your loved ones. If you have fridge space, it's quite sweet to be able to leave love notes for your other half to find during the day: "You are perfect", "I love you forever", "You make me happy", "I love days with you" and so on are just a few of the messages you could make up.
It's a really lovely idea for feeding the love in any relationship - we all like to be appreciated and recognised! If the rest of the Valentine's range of bears, keyrings, plaques and so on are as nicely presently and properly made as these two, they'll all make great gift for Valentine's day.
The Good
I think I've pretty much spelled out the good stuff already, but here's a brief recap for you:
These product embody love and sweetness
They are really well made and not at all tatty. They also serve a practical purpose, which in houses filled with clutter becomes really important and valuable.
The price range is good too - gifts for £10 and under never go amiss.
The Bad
I can honestly not think of anything bad to say here.
The Verdict
Lovely products at a great price, no fuss, nothing difficult, but easy to incorporate into another gift (think, a ring inside a money box? Magnets holding a ticket for a show?) and just as easy to give as a gift in itself. Whatever your circumstances this Valentines day, you can offer one of these Me To You Valentine's gifts with your head held  high.