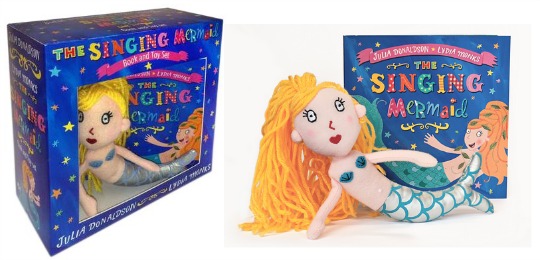 We have featured this gift set before and it sold out very quickly, so best be quick! The Singing Mermaid is a wonderful book by Julia Donaldson, author of The Gruffalo and you can get it in this gift set with a matching toy of the mermaid herself. Instead of the usual selling price of £12.99 you can now get this for an amazing £2!
If you have Prime you don't even have to add delivery to your price, or if you don't then either add the extra £3.49-ish for delivery or buy 5 and get the free delivery when you spend £10 on books!
You can't really go wrong for £2, and these gift sets would make fantastic party gifts, or just something to tuck in the 'just in case' pressie box. (It's not just me and Nada who do that is it?)
These Singing Mermaid Gift Sets  are likely to sell out super fast as bulk orders start to come in, so hurry!
Thanks to KPGills @ HUKD