I confess! Whenever I read, hear or write 'think pink' I can't help  but think Vanish washing products.
If you thought the same, Think Pink again!
Think endless pretty pink girly things for almost eventuality, scenario and occasion you can possibly think of.
I'm not a 'pink' fan but having had a look around their website I'm feeling thoroughly girly, pretty and have a longing for pink.
(There is a blue version of the site too, just in case those of you with boys were feeling a bit left out!)
We sent PlayPennies mum, Tamara, three things from Think Pink to review:
Three piece Angel - Tutu set (£12.99)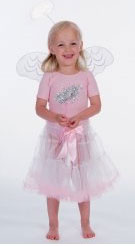 This is an adorable little fairy/angel set that comes with wings, a skirty tutu thing and a wand.
"My daughter loves, loves, loves, and did I mention, LOVES the three-piece angel/fairy outfit!  It has been doing a bit of a South Coast Tour having made appearances at Tescos, Brighton and gymnastics," Tamara tells us.
By all accounts, the skirt is  really REALLY pretty and can even be used to bulk up a normal dress for a party or when something a little extra special is called for.
"Seriously," reinforces Tamara, "we used it to poof up one of her party dresses and it looked LOVELY, just a peep of frill and lace out the bottom and lots of lovely volume."
Tamaras also tells us that this angel/fairy outfit is whipped out most days and  is a HUGE hit with her daughter who can go off things pretty fast if they just aren't up to scratch.
One of the big fears with angel/fairy outfits can be the wings; delicate wings and over-enthusiastic/less-than-careful youngsters do not make good allies!
"The wings are sturdy buggers AND just the right size too; wings can be tricksy things," says Tamara. " Too big and they can flop and droop which = kiddy temper tantrums and shouting.
Too tacky and badly made they can flop and droop and tear = kiddy temper tantrums.
These are small and sturdy but not too small so that they don't show over her shoulders."
The wings have stood up to the riggers of being loved by a child too.
Tamara tells us they've been squashed in the car seat, stood on, squelched into a corner and even cuddled up to in bed and they are still going strong.  She's very impressed!
Cupcake Money Box (£8.99)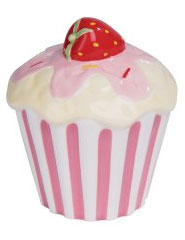 Did you know that a cupcake money box can do more than just hold money?
Neither did I until Tamara told us about the new game her daughter had invented!
"The cupcake money box has been used in a new game that takes place on weekends: Husband lies down on floor and pretends to be asleep. Daughter fetches him 'coffee', which happens to be this cupcake money box.
Husband goes "glug glug glug" and pours the coffee down his throat. He then leaps up dramatically going "WAHEY!" just when she least expects it and tickles her madly. Is very entertaining!" explains Tamara.
She also revealed that it does involve the cupcake money box getting bashed around a bit.
"This is one TOUGH money box! It hasn't so much as show a chip and it's BIG too!"
Another thumbs up, methinks.
Spotty Tea Set (£15.99)

"I fell in love with this the moment I saw it," confesses Tamara, "I thought it was just a little handbag! Then when we opened it and saw these adorably spotty ceramic plates and pots and cups we both got very excited."
Carpet breakfast, lunch and dinner picnics with the Toy Story gang and friends and family have been enjoyed.
Tamara tells us that it is the most gorgeous tea set in the WORLD!  Everything slots in nicely, the plates and spoons have little bands that hold them in place.
However, the spoons are easily breakable and tough to squeeze back into their elastic holders, Tamara says she has to do that bit.
She also tells us, "The handle has already broken off the case. I wasn't around when this happened so I have no idea how it occured. It could be something pretty brutal that caused its death!
The case lock and case are still going strong though, it's just sans handle now; more of a clutch case tea set than attache case."
And finally...
Tamara's concluding thoughts on the Think Pink bits we sent her?
"The three-piece angel - tutu kit is ace! It would make a great little stocking filler or present for that niece you HAVE to buy for but don't know very well. £12 seems good value for money for such a sturdy little kit.
The cupcake money box is brilliant!  An absolutely fab' stocking filler; sturdy and does an excellent impersonation of a cup of coffee.
Despite our little incident with the handle of the Spotty Tea Set this really would make an awesome Christmas pressie. Any girl who unwraps one of these on Christmas day will want to have their Christmas lunch served on it...I would!"
Think Pink - have a PlayPennies Gold Star!