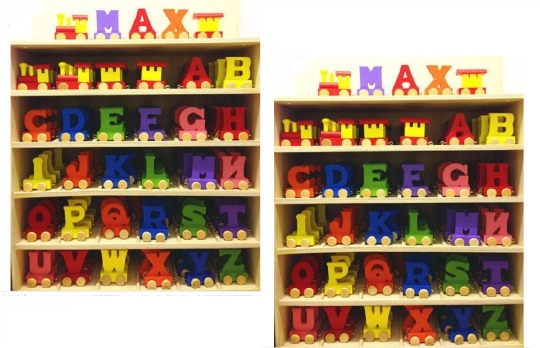 We just love these Wooden Alphabet Colour Train Letters. They are just begging to be put on top of a chest of drawers or a bookshelf. Each individual element is £1.20 each delivered, meaning a name like SARAH would cost you £6 for the name letters and an extra £2.40 for the Train and the Carriage at the back. It's nice and different for a new baby or perhaps you have just decorated your child's bedroom and it's needing those finishing touches. These are sold by reputable eBay seller kids.toys.london.
PLEASE NOTE: You must buy a minimum of 6 pieces to be eligible for FREE delivery.
These Wooden Alphabet Colour Train Letters are very popular because of the great value. They have a traditional feel and are something for your child to keep right through to when they have children of their own.
You must checkout all the letters in one order or else the seller warns that they add on a 20p per letter surcharge if they are ordered individually. More details of how to order are in full on the eBay listing, here*.