Love Is - It's Your Story Book Review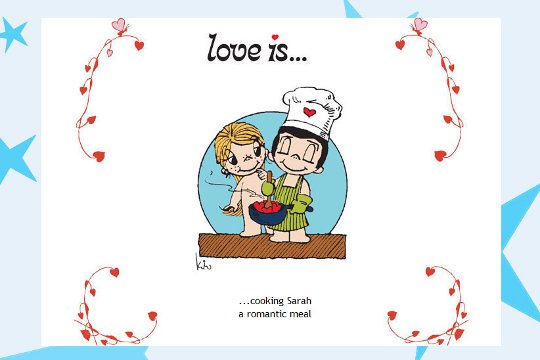 If you're of a certain age you'll remember the two Love Is characters - that cute little naked cartoon couple, whose modesty always remained intact, and were clearly very much in love with each other.  The love bird pair were very popular in the 1970s and earned their creator, Kim Casali, between £4 and £5 million a year - not bad for some cartoon drawings!
Well, the Love Is duo seem to be making a bit of a comeback and with Valentines Day just a couple of weeks away, a personalised book featuring the Love Is characters makes for a soft and smoochy gift for the one you love.
It's Your Story specialise in personalised books and invited me to create a personalised Love Is story book - here's how I got on from start to finish.
The first tick in the 'yes' box for this personalised Love Is story book comes from not having to trawl through all the sickly tat dripping off the shelves in high street card and gift shops, the entire process is completed online and that  is a very big bonus as far as I'm concerned.
I'm busy and don't have the time, or the inclination quite frankly, to spend it searching for a Valentine's Day gift.  That said, any Valentine's Day pressies must be more than a generic, thoughtless 'something', and this Love Is personalised book fits that bill perfectly.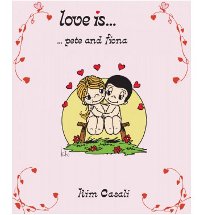 I logged on to ItsYourStory.co.uk and clicked on the Love Is product image which took me directly to a page featuring a large picture of the Love Is story book cover.  You can also scroll through large size images of some of the other pages featured in the book and they're CUTE.
Love Is personalised story books cost £17.50 - so not a cheap and tacky price tag - measure 20.6cm x 21.7cm and have 32 pages in total.  They feature 24 Love Is illustrations of which 12 are personalised by you.
The personalisations include your names, your favourite television programme, or film, that you like to watch together, the name of your favourite restaurant, the girl's date of birth and her favourite food and your names on the front cover.  There's also the option to create your own 'Love Is...' phrase which will be printed on the inside cover page.
You can preview and flick through the pages of the Love Is story book before you make your final decision to go ahead and personalise your own (another tick in the box, I like to see what I'm buying, regardless of whether it's online or in an actual shop); if you want to take that a step further you can personalise a sample page and view it.
When you're ready to personalise your Love Is story book, you simple add the book to your basket - a pop-up window appears which asks whether you want to continue shopping or checkout.
You need to click 'checkout' which will take you to your shopping basket - the link to the personalised option fields is here.  I found this a little clumsy and could cause more than one or two people, I'm sure, to go back and try to find the personalisation options - it would make more sense, I think, to personalise first then checkout.
Once you've filled these in, you are asked to confirm your choices and have the option to change them before you submit your order and pay for your Love Is book.  You have two delivery options and when you order is going to determine which one you should choose.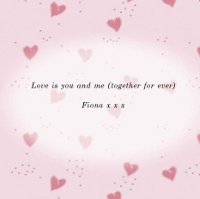 Books from It's Your Story ship within four and 10 days of you placing your order.  Standard delivery is £2.50 and express is £6.00 - I chose standard delivery and my order was printed and dispatched in four days, I was expecting it to take longer to be honest.
However, on the front page there's a date - currently 10 February - which is the next mailing date for normal and express delivery; if you want to ensure you get your Love Is story book in time for Valentine's Day then keep a close eye on this date and order as soon as you can.
My personalised Love Is story book was packaged well and arrived in excellent condition.  It has been printed on lovely thick paper, the front and back covers are laminated and the book is bound together to produce a spine, rather than being flat and stapled together through the middle.
The illustration printing is crisp on the pages, the colours are bright and it definitely feels worthy of its £17.50 price tag.
And finally...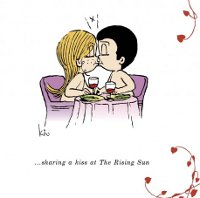 It took me just 10 minutes to create my personalised Love Is story book, only four days to dispatch and another two before it arrived.
The It's Your Story website is easy to navigate and, apart from the strange checking out before you can personalise your book bit, it was a totally painless process creating and ordering the book.
I was particularly glad to discover I could finalise my order as a guest - there are few things that infuriate me more than having to create an account before I can pay for something, if I want to create an account I will and I resent being forced to do so - so a big 'thank you' to It's Your Story for that.
The finished Love Is story book is fabulous - it feels weighty, it looks fantastic, will make its recipient smile from ear to ear and earn you a few Valentine's Day kisses for sure!
This is a lovely keepsake gift and is worth every penny of it's £17.50, as far as I'm concerned.
Pros, Cons and Overall Score
Pros: the order process is straight forward and painless, the dispatch date is made clear and mine was sent before the date stated on the It's Your Story home page, the packaging is robust, book pages are thick, the printing is clean and crisp, the colours are bright, the book is bound nicely with a spine
Cons: none; I really can't find any or any good reason why you shouldn't order and not love this Love Is story book - it's just CUTE and lovely without being too sickly sweet and tacky
Overall score: 10 out of 10