Hampton Blue - Hand Made Vintage Fabric Journal & Nicky James Make Up Bag Review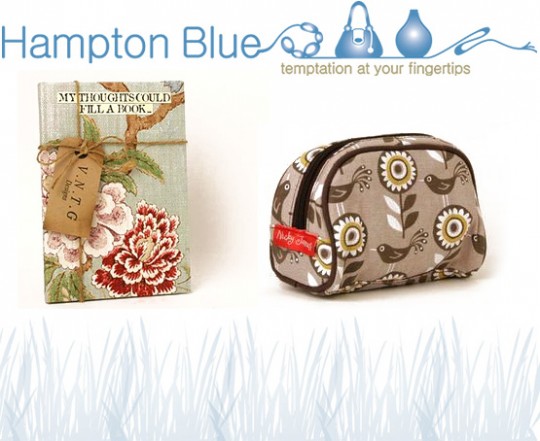 My heart soars with happiness whenever I get assigned anything from Hampton Blue to review, let me explain why!
First of all you need to picture what Hampton Blue is like, close your eyes and take a little imaginary journey with me...
You're on holiday in a quaint little English village somewhere on the coast; you stroll through the adorable high street and stumble across a little shop selling things you'd use but aren't like all the usual run-of-the-mill versions you normally find.
THAT, is Hampton Blue and I feel it's only fair to issue a stern PlayPennies public service announcement:
"Temptation at your fingertips" is the strap line on the Hampton Blue website - they're aren't kidding; there are that many scrummy things to buy from them, you'd be well-advised to develop some cast iron will-power before you pay them a visit.
Failing that, just do what I do - give in to the temptation and enjoy every single second of it!
Two items from Hampton Blue landed on my desk - a fabric covered journal and a Nicky James make up bag.
Hand Made Vintage Fabric Covered Journal
You know when you see something and instantly fall in love with it?  This is exactly what happened to me when I set eyes on the hand made vintage fabric covered journal.
It seems to have this immediate effect on anyone who has a 'thing' for books they can write in - my daughter saw it and begged me, literally on her hands and knees, to let her have it.  My mum saw it and agreed it was lovely, as she stroked it - I kid you not!
There are various incarnations of hand made vintage fabric covered journals - some of the fabrics have a blue bias and others more of a pink colour - and they have different 'slogans' printed on paper stuck to the top of the cover.
I received a blue hand made vintage fabric covered journal that has 'My Thoughts Could Fill A Book' on the top; it arrived tied with string and had an old fashioned luggage tag attached, on which I could write a message if I was giving it to someone as a gift.
And what a lovely gift it would make too - if you know someone who loves writing in books, or just loves to have notebooks, then you really won't go wrong with one of these hand made vintage covered journals.
They are A5 size and cost £10.95 - this really isn't expensive, even a bog standard, plain and boring hardback notebook costs at least £6; an extra £5 for something stunning to look at and special to write in is a drop in the proverbial ocean and most definitely worth it.
The only problem I have, personally, with the hand made vintage fabric covered journal I received...is deciding what to write in it.  In fact, it's almost too lovely to write in!
Nicky James Bloom Makeup Bag
I really liked the look of this Nicky James Bloom makeup bag , but after all the begging about the hand made vintage fabric covered journal that I'd endured from my daughter, I took pity on her and gave her the Nicky James makeup bag.
I must confess, this wasn't just me being 'nice', if it can withstand the abuse of travelling backwards and forwards to school in a 16-year-old girl's school bag then it will be able to stand up to anything!
I was quite surprised Elise liked the look of it, to be honest, because she's not usually into retro-looking prints, but apparently the fabric print design of the Nicky James Bloom makeup bag is 'cool retro' (I thought all retro was cool, apparently not!).
It's made from 100% cotton canvas and can be wiped clean, the inside is lined with a lovely purple coloured fabric and it has a little red tag stitched to the outside which says 'Nicky James'.
It's big enough to hold all your essential make up items comfortably whilst being small enough not to dominate the bag you carry it in and it's simple on the inside - there aren't any pockets, zips or compartments.
Of course, you could use this Nicky James Bloom makeup bag for other things besides makeup and because of the print design is suitable for absolutely any age range.
Elise is 16 and she loves it, as do all her friends; my mum loves it and my almost five-year-old niece loves it - she has a real thing for bags and purses.
Speaking of purses, there are other items to match this Nicky James Bloom makeup bag - a purse being one of them.
This Nicky James Bloom makeup bag costs £9.95 which, again, I think is a fair price.  Plain, and boring, makeup bags are similar prices so I'd have no issue spending £10 on one that's fun, funky and robust.
It is robust too - Elise took her reviewing duties seriously and abuse the Nicky James Bloom makeup bag quite thoroughly - the outside wipes clean nicely, the inside lining has remained intact and damage free and the zip is still in perfect working order, despite being yanked and tugged.
And finally...
As far as I'm concerned, Hampton Blue have come up trumps again with these two items.
The quality is fabulous, their complimentary gift packaging is wonderful - everything is either wrapped in blue tissue paper or comes in a blue organza bag, with a Hampton Blue label attached - and their prices are pretty much perfect for what you get.
They deliver worldwide too: UK delivery, for any order size, costs £3.95; European parcel delivery (which includes Ireland) is £7.95 and for the rest of the world delivery is £14.95.
For the items I received and the overall Hampton Blue experience, I give everything a 10 out of 10 - if you're looking for something that's a little bit special without breaking the bank, then I strongly recommend you pay Hampton Blue a visit.