Hallmark's Recordable Artwork Review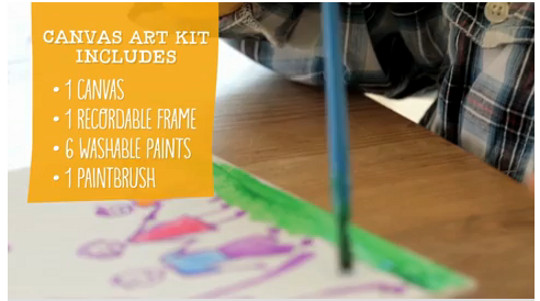 Christmas is coming, the geese are getting fat… and the best way to have a cheap one, is by planning ahead and doing things in advance, right? Well, Hallmark have a lovely keepsake gift idea for you: Recordable Artwork.
It's very simple, really – a box containing a frame, a canvas and a speaker/recorder, along with a paintbrush and six paints.
There's a 'Try Me' button on the box, and when you press it, a man's voice says something like 'What's this a picture of?' and a girl responds by saying it's her rainbow (the picture on the packaging).
The idea is that your child paints on the canvas, then records a message. You send it to your recipient, who presses the button and has the message behind the art spoken out in the child's voice. It's very sweet, really, and I can see it being useful in so many circumstances – deployed parents, distant grandparents, far off relatives, the list goes on.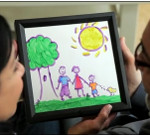 While the recordable part is re-recordable time and again, the canvas is only single use, and I'd imagine it would be quite hard to replace because of its size and the fact that it 'slots' into the frame. I decided to extend its life and folded an A4 page around the canvas, and then slotted it in. I gave my daughter some crayons and a marker pen and she went to work.
She drew a lovely set of squiggles and circles and coloured them with crayons and when she was finished we recorded her message.  After this, she decided she had more additions to make to her masterpiece, so she spent another 10 minutes or so colouring, and listening to our recording again and again and again and again.
I did think, and when we showed the finished product to my husband, he mentioned too, that the sound quality on the recording is remarkably good. I wasn't expecting it to be so loud and clear, but it was. I don't know if the message would remain once the batteries go flat. We'll have to wait and see I guess!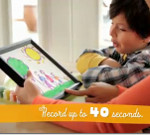 The only 'problem' I foresee is that in order to record, you have to open the battery cover and flip a switch to put the frame into record mode (the play button is on the front of the frame, and the record button is on the back, so there's no chance of accidentally mixing it up, but you have to switch record on and off [if you wish] to prevent accidental deletions – which is a good idea when you're working with kids!). The 'problem' is that the screw on the back is really small – a small star screwdriver – and if you don't have one that small, you're going to have to get one first.
The idea from Hallmark is that this will now go on the wall and be a reminder, or capture the world through your child's eyes. It's a lovely idea, but to be honest, with children, or perhaps just with my child, a 'one-time' activity is just not going to entertain for long enough. Also, I like the idea of being able to update it at each, say, visit to Grandma, or similar so I'd definitely recommend putting paper in over the canvas. My husband thinks in the 2.0 version, you should be able to connect it by WiFi, so you can send a new picture and message whenever you want. (And this would be a great way of 'saving' the hundreds of pages of art work too!)
The Good
Where to start?!
It's a great idea
It's a good size for posting
You can record for 40 seconds and redo as often as you need to 'get it right'.
Kids love it – at least mine did
The Bad
The canvas is single-use and I can't see an easy way to replace it.
This isn't currently available online at Hallmark but should be available in stores by now.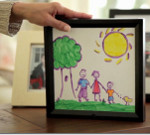 The Verdict
I love the Recordable Artwork from Hallmark. I think it's a great idea and I think it's a quality gift. So quality, in fact, that I hope my parents aren't reading this review, or they'll know what they're getting for Christmas!