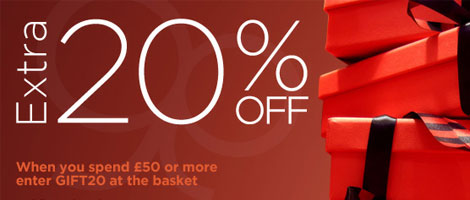 Here's a gifted.com discount code for you to use to get 20% off when you spend more than £50.
Discount Code: GIFT20
Discount: 20% on a £50 spend
Applies to: everything
Expires: 11 October 2010
Clich HERE to go on over to Gifted
I know you don't want to hear it but there are only 83 days left until Christmas - you have to face it at some point, so why not now when you can take advantage of discounts and save yourself some cash along the way?
These last few months of the year are dead expensive for me - October is jammed up with family birthdays (including mine *hint hint*), the Teenagers' birthdays are in November and after that there are only five weeks left!
So I've already been in pressie buying mode for a while and when discount codes for gifted.com pop up, I use them!
Their site is nice and easy to use and if you're a bit stumped for pressie ideas, they can help you out with suggestions based on your narrowing down the options.
There's something here for everyone across various price ranges and don't forget you need to spend over £50 for this gifted.com discount code to apply.