Wii U 8GB Basic White Console Including Wii Party U, Nintendo Land, Wii Remote Plus Controller £159.85 @ ShopTo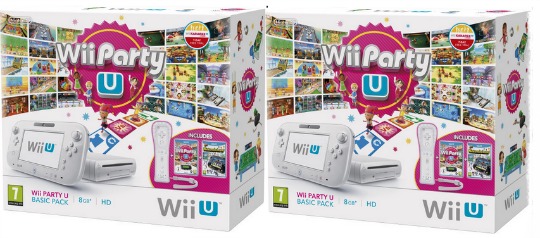 Crikey! What a fantastic price for this Wii U 8GB console package. Only £159.85 with FREE delivery! Let's get this straight, that's not the old original Wii, nope, but the Wii U. This very same package costs £ 249.99 direct from Nintendo. If you are after one of these, then do NOT wait to see if this will get cheaper. Chances are it won't.
What do you get for your £159.85? A Wii U console, 8GB internal flash memory, gamepad, gamepad stylus, gamepad cradle, gamepad stand, console stand, two AC adapters (one for gamepad, one for console), HDMI cable, sensor bar, Wii Party U game and Nintendo Land game.
With Wii Party U, you get lots of mini-games to play and enjoy. This is a good game to get to grips with the Wii U console and controls. The gamepad has a touchscreen on it, oh how consoles have progressed. Both games can accomodate up to five players.
If this console is an upgrade of the Wii, then I just cannot wait to try it. The Wii concept is so sociable and fun compared to other gaming consoles.
Thanks to bigJaffa @ HUKD