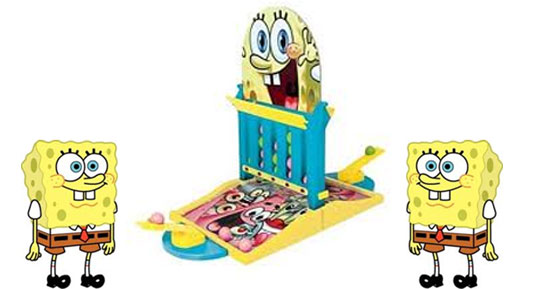 It's New Year's Eve - hurrah! - and all the toys and games mania which surrounds Christmas is almost done for another year - hurrah! - because I'm feeling a little jaded by it all now.
That said, I'm rather taken with this Spongebob Springboard game and wouldn't mind having a go at it - it looks like FUN!
Spongebob Springboard is suitable for one or two players who are aged three years or more and the game principle is nice and simple - just aim and fire your coloured balls into Spongebob's mouth and whoever gets four in a row first is the winner.
I love games where there's an element of skill involved; you can imagine playing nice and carefully to start with but all that care going straight out the window when your opponent starts to get a few in a row and threatens to steal the win!
The price on the Debenhams website is currently £8.10, to drop the price down to £7.29 just enter code VX99 to your basket before you check out.  Then all you have to do is choose whether to collect your Spongebob Springboard game in-store or have it delivered to your home, both options are free.
Thanks to andywedge at HUKD