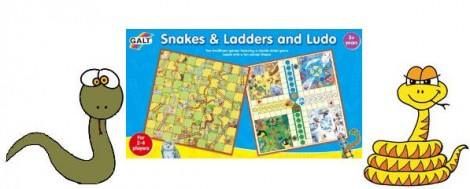 Amazon are selling this Snakes & Ladders and Ludo game set for £5.00; you'll only be saving £1.66 as the rrp is £6.99, but just think what else you could do with that £1.99...buy a box of three Magnum Classics in Tescos, AND get change, as they're on sale for half price at the moment (WOW, I'm just a walking money saving deal library today!).
I loved playing both these games when I was little, I still enjoy playing them now if I'm honest.
Snakes and Ladders is just awesome; the joy of going up the ladders, the mild peril and adrenalin as you get closer and closer to a snake whilst BEGGING the dice turn up numbers high enough to get you past them - especially that big dude right at the top that takes you almost a-l-l the way back to the bottom of the board again.
I mean, seriously, how can SO much fun be had from such a simple board game?!
Ludo is pretty great too although it doesn't have the same 'danger' element that Snakes and Ladders has.
Aside from being lots of fun, these board games will help to develop your child's basic numeracy skills - learning AND fun all for a fiver; what a bargain.
Thanks to cath1510 at HUKD