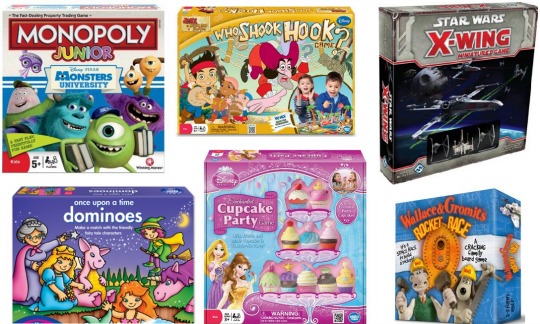 Will Father Christmas be bringing lots of toys with noises, music and flashing lights this year? How about calming it down with a board game to bring a moment's peace and quiet to the proceedings? Amazon have a promotion on Board Games, with many of them half price, and they start from only £5.99. There's a good variety available, covering lots of different age groups to suit all the family.
For younger children there is Orchard Toys Once Upon A Time Dominoes*  or the Wild World Lotto*, both of which are suitable for ages 3 to 6 and are now £5.99.
There's a few different Disney Board Games on offer including a Jake & The Neverland Pirates Who Shook Hook* game now £9.99, the Disney Princess Enchanted Cupcake Game* now £8.99, and the fantastic Monopoly Junior Monsters University Edition* for £9.99.
I think the favourite in our house would be the Wallace & Gromit Rocket Race*, but I expect most families would rather be playing with the Star Wars X-Wing Miniatures Game*, though at £19.99 that still seems fairly pricey to me.
All these games are eligible for Free Super Saver Home Delivery when you spend over £10.