Pre-order Tomy Pop Up Olaf Game NOW @ Smyths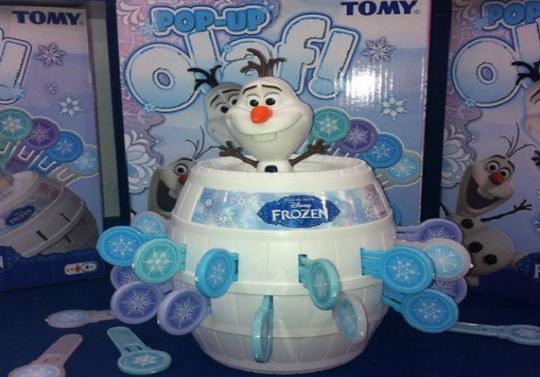 Tomy's Pop Up Pirate is an absolute classic game for the whole family, and it's as popular today as it was when I was a nipper. When I saw that Tomy are bringing out a Pop Up Olaf Game I could not contain my excitement. The kids will go daft for it, and it's a great toy for male Frozen fans, since a lot of Disney Frozen merchandise is aimed at little girls. If you want this Pop Up Olaf then I suggest pre-ordering it from Smyths Toys Store, it'll be £16.99 and you will have to wait until it's release date which is the 20th March.
Don't worry if you are strapped for cash just now, as Smyths would take your hard-earned cash until you collect it from store or it is dispatched for delivery.
Pop Up Olaf works in exactly the same way as the original Tomy Pop Up Pirate game and it comes one Olaf, one Barrel and twenty-four Crystal Sticks.
This would make a great Easter gift if you would rather not give the kids chocolate, and it would certainly keep them entertained during the Easter holidays.