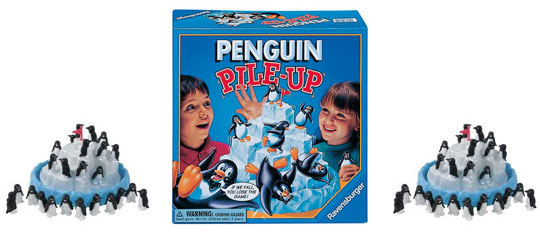 I've lost count of the number of times I've played this Penguin Pile Up game; my aunty bought it for my daughter a good 10 years ago and it's been worth its weight in gaming gold!  Amazon are selling it for a bargain £9, rather than £14.99.
At 16, Elise isn't really interested in Penguin Pile Up anymore so my youngest son 'inherited' it and he loves playing it lots; so do I!
The premise is very simple: divided the penguins equally among players and take it in turns to balance them on the wobbly iceberg.  If your penguin stays put then it's the next player's turn; if your penguin falls off and takes others with him (which he will) you must take those penguins and add them to your collection.  The first person to balance all their penguins on the iceberg WINS!
All of the children have loved playing Penguin Pile Up as a family and with friends, they also took to practising on their own too - not that they're competitive or anything *wink*
I can't recommend this game highly enough.  It's lots of fun and develops fine motor skills, along with good hand/eye coordination, into the bargain; marvellous!
Thanks to lucerysmum at HUKD