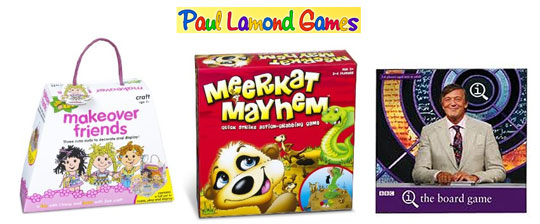 Creative sets, kids games and board games always make for great Christmas presents but, with so many new ones to choose from, how do you know which ones are going to be good and which ones are going to be flops?
Paul Lamond sent me three games covering the age and gender spectrum to test out on your behalf.
Makeover Friends Craft Set - for girls aged 3+
I don't have a girl aged three plus, or know any, so I sat down, spoke ever so nicely to my five-and-a-half year old son and asked him to help me with some work - it's a good job he's up for most things that's all I can say!
The Makeover Friends Craft Set retails for £9.95 and everything you need is included in the box which opens out to become 'Rose Cottage'.  Inside are three flat dolls for you to decorate and display, along with a rug to put on the floor of your cottage, some plain paper, two patterns and a cardboard scene to colour in, some beads and various coloured strands of wool
When we opened the box, everything was jumbled up inside and took a little while to sort out and we were missing the little piece of dowel for helping to thread the beads onto the wool - very tricky without this.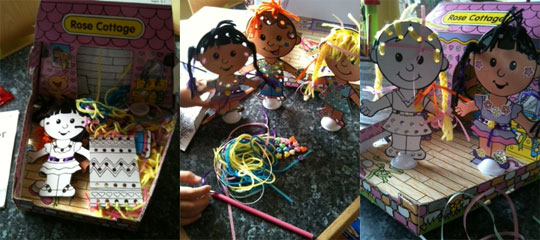 The cardboard figures are coloured in on side and plain on the other so you can colour them in yourself, but most of their hair and decorations had already been done for us.  Both me and Edward enjoyed colouring them in but agreed it was a bit rubbish there wasn't more hair-adding and other decorating for us to do.
In fact, by far the most engrossing element of the Makeover Friends Craft set was the colouring in element. Bearing in mind this is for girls, colouring in the scene for Rose Cottage and fitting into place in the box kept my son's attention for quite a while and he was very considered in choosing the colours for his scene.
He wants me to tell you that using normal pencils on the cardboard scene is, and I quote, "A bit tricky because the cardboard is shiny, so it's best if you use watercolour pencils instead."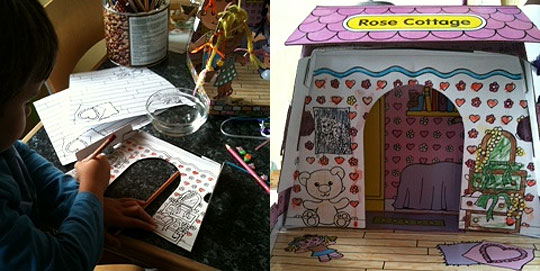 We really weren't sure about the Makeover Friends Craft set, we both tried to imagine we were little girls and agreed it would be fun for a little while, but once it was all done...then what?
We could play with the characters and pretend they were visiting each other at Rose Cottage but decided that would get boring pretty quickly.
Pros and Cons
Pros - has some colouring in to do, looks cute, will occupy you for an hour or so
Cons - not much to do as most of the characters have most of their decoration done for you, nothing much to do with it when you've finished, expensive based on what you get in the box
We gave the Makeover Friends Craft Set an overall 5 out of 10.
Meerkat Mayhem - for boys and girls age 6+

Now THIS was more like it - any game with the name 'mayhem'  in it is going to attract kids like bees to honey!
Up to four players can play Meerkat Mayhem, it's nice and simple to set up, nice and simple to play and it's FUN - me, Edward and his dad played this and we all agreed it was great.
Meerkat Mayhem comes under the 'skills and action' category at Paul Lamond and it's certainly the right place for it - you have to grab your Meerkats before they get eaten and having to anticipate this had Edward giggling away whilst declaring, "I'm NERVOUS!" Mild peril, it seems, is the secret to kids game success.
Each player chooses a colour - red, blue, green or yellow - and gets a certain number of Meerkats (this depends on how many players are playing at any one time), the big green cobra sits in the middle and of the game stage and a Meerkat sits on top of their relevant coloured trap.
There are two spinners on either side of the game stage (I don't know what else to call it as it's not a board) and each player takes it in turn to spin - if the spinner lands on your colour then you get to 'spring the cobra' by pushing it down
This triggers the traps and all the other players have to grab their Meerkat before they fall into the trap, any Meerkats that fall are given to the player who sprung the snake and the first player to collect 10 Meerkats is the winner.
It doesn't take much to bring out Edward's competitive side and it did get to the stage where me and his dad had to 'let' him win - the tears and proclamations of, "You've both hurt my feelings!" were just too much to bear - but it was still a lot of fun.  It's quick and simple enough for just a couple of games, but doesn't get boring after endless rounds of games.
This is a great game for teaching a few things too - gamesmanship clearly being one that will come later for Edward - reflexes are going to be developed that's for sure, along with coordination and colour recognition, followed by appropriate action, under pressure.
Pros and Cons
Pros - quick and easy to set up, simple to play, exciting, fun, good for a couple of quick games to fill in some time, great for playing lots of games when you have more time
Cons - NONE
Meerkat Mayhem retails for £11.99 (at the time of writing it's just £9.99 with Amazon) and we gave it an overall 10 out of 10.

QI Board Game - anyone over 12+

It's rare that the teenagers get to see any review action but the QI board game based on the TV show, for between three and six players, is for people aged 12 years and over * which, at 16 and 17, they most certainly are (even if they don't act like it sometimes).
(*on the Paul Lamond website it states that QI is suitable for 2 - 6 players aged 8+ but the box says suitable for 3 - 6 players aged 12+.  I'd say the box is correct; an eight-year-old would be totally flummoxed by all of the questions we had last night.)
I must confess I wasn't holding out much hope for success with the QI board game; I don't understand the TV version and not wildly keen on it either so, after much delay (it's been waiting to be opened for over a month!) I sat down last night with the big kids and we played it.
Inside the box are four question books coloured red, green, yellow and blue, a set of rules, a buzzer, three dice (red, white and blue) six QI player pieces, a pack of chance cards and the most complicated looking board you've ever seen!
My fears appeared to be founded when I read out the rules.  The kids looked at me blankly and I stared back at them with the same expression - we decided to play and learn at the same time, it was going to be the only way.
It actually turned out to be very simple - everyone takes turns to ask questions and you either move up or down the board.  The game ends when someone reaches a 'game end' square and the winner is the person with the lowest negative score or the highest positive score (they are the + and - numbers on the scary looking board).
After we'd got the hang of the game this was  the last piece of confusion - there isn't a number on either of the 'game end' squares, so does that mean the person who gets to the top one first doesn't automatically win?
We couldn't work it out so we just declared that the game end sqaures were +31 and -31 so whoever got to the top one first was the winner and whoever stopped the game by landing on the bottom one was definitely going to be the loser.
After all our initial misgivings we really enjoyed playing QI.  There is a good mix of serious general trivia questions and some funny ones, this one in particular caused a few giggles as it was most unexpected:
On average do men or women produce more gas in their farts every day?
A) Men
B) Women
C) There is no statistical difference
The answer was A - although apparently women generate a more intense smell whilst men produce greater volumes, in both senses of the word - you can see why it caused some laughter and who says you don't learn something new every day!
The teenagers wanted to play again - no mean feat when it was eating into their 'internet time' - and it'll definitely be coming out to be played on Christmas Day.
Pros and Cons
Pros - interesting, funny, educational, a good game for older members of the family to get together and play, quick enough not to require hours and hours for one game, lots of different question combinations
Cons - the instructions make the game sound MUCH more complicated than it is
QI retails for £19.95, is currently on sale at Amazon for £18.18, and overall we gave it an 9 out of 10
And finally...
I really don't have anything left to say other than I'd give the Makeover Friends a miss, definitely get Meerkat Mayhem for little kids and QI is most amusing for the older members of the family who like playing board games.
Price wise, I think Meerkat Mayhem and QI are very competitive in what can be an expensive market and their entertainment value certainly makes them value for money too.