Monopoly Millionaire £10.02 @ Amazon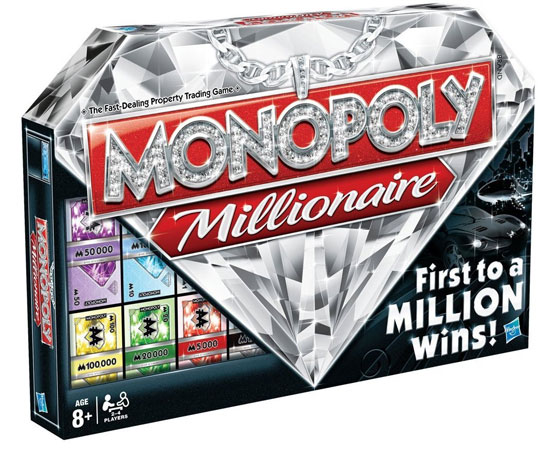 Amazon are selling Monopoly Millionaire for £10.02 instead of £19.99.
I hate playing original Monopoly and it's put me off playing any of the other incarnations of it too!  It's my ex-husband's fault - he was, and still is, dangerous when it comes to the much-loved, by almost everyone except me, property tycoon game.
He showed no mercy, the dice always seemed to fall in his favour, and he always seemed to have enough cash to buy piles of houses and hotels - perahps I should have been the banker!
Monopoly Millionaire is slightly different from the original version in as far as, the first person to accumulate a million pounds is the winner.  You still rent and buy houses and hotels, but you also collect a salary and can upgrade your rowing boat for a luxury yacht.
Apparently you can do all sorts of things with fortune cards but I'll be honest, at this point I switched off - did I mention I don't like Monopoly?!
The reviews from less jaded Monopoly fans, however, are slightly more positive. I'd read through several of them over at Amazon before you decide on whether Monopoly Millionaire is for you - if it is, then you'll get it for a good price:
We got this for our children for Christmas and it's a huge hit for our whole family. My husband and I find it very enjoyable and so much faster than the original Monopoly. My son is only 6 but he really gets the idea and wins games without us giving him chances. It is a much more positive game than the original Monopoly because you are aiming for a specific goal rather than playing to the bitter end and trying to bankrupt the other players. So much kinder for a young child!

There are 2 downsides. You do run out of money. We swapped the 1,000 notes and made them 100,000 value instead - even then we still got short. It needs some 500,000 notes.
The other downside is the cheap plastic playing pieces. They could be better made and the small aeroplane is hardly visible on the board.
Apart from that I would highly recommend it.
Thanks to watson44 at HUKD