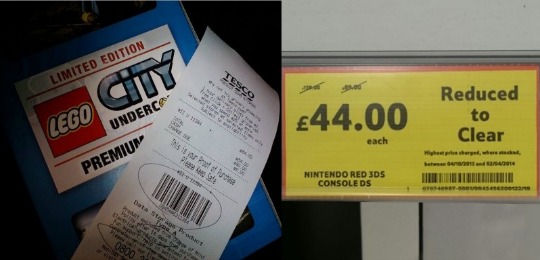 We had to tell you about the amazing deals that people have been finding in some Tesco stores on games consoles - these are not online, and seem to be in a few stores around the country, but it's well worth keeping your eyes open for some of these in your local branch.
We don't just mean a few pound off, these prices have been slashed to clear out old stocks.
This is what has been found so far:
Nintendo 3DS Red or Blue, £44, in Tesco in Widnes.
Wii U Premium 32GB Bundle with Lego City Undercover as well as the Wii U 8GB have been found for £84 / £89  in Tesco Prescot, Shettleston, Widnes, Telford, Durham, Glasgow, Shrewsbury, Perth, Colchester, Swansea.
Wii U 32GB with Nintendo Land £74 at Tesco Grimsby.
XBox 360 250GB with Fifa 14 for £64 in Tesco Cambridge.
Nintendo Wii Mini 8GB Red, £29 in Tesco Shirley.
Playstation Vita £49, in Glasgow.
These could be in more stores, or they could have all been snapped up, so we are not suggesting you make a special journey as you may be disappointed.
People have also reported having no success by ringing stores, but by going in and asking at the desk they have found some of these consoles at amazing prices.
We wish you loads of luck, and hope you manage to get one!
Thanks to taffyraptor, ando, randall1uk, xclarkyx, fizzyb123, and Mark9988 @ HUKD