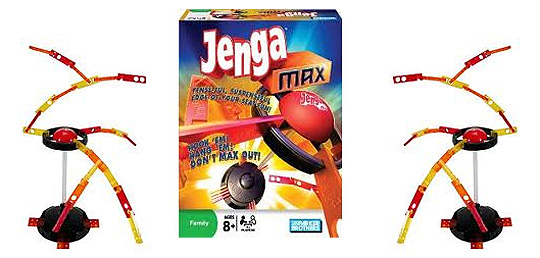 Mail Order Express are selling this Hasbro Jenga Max game for £7.99, with free delivery if you use code SHIP2012, rather than £16.99.
I love playing Jenga - it was, still is in fact, great to play with the kids when they were younger and rather fun to play with friends after a glass of wine too many.
I'm not sure about this Jenga Max version but it's being billed as the most nerve-wracking game of Jenga you'll ever play - well, now I'm intrigued, because normal Jenga can get the adrenalin pumping quite nicely...if you're as competitive as I am.
Basically, it looks as if you hang Jenga blocks into a round frame that sits on a pole.  Then you just keep adding to the blocks and can either build up, down or stretch out to make the connections wide (look at the picture, it'll help explain my shocking game play description) - the trick is to keep everything balanced and not be the one to make everything fall down.
Weird and looks like it could be rather fun; for £7.99, it won't end up being a costly mistake to find out.
Thanks to lucerysmum at HUKD