Hasbro Elefun £12.34 @ Amazon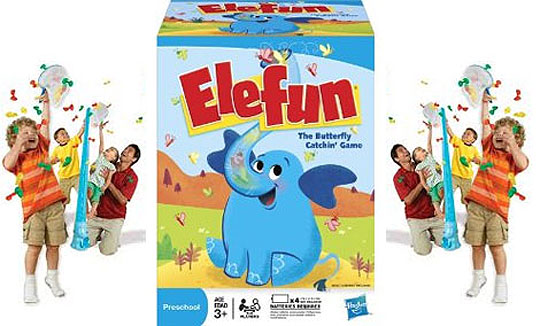 If you're looking for a fun and simple game to play with the kids this Christmas, then might I humbly suggest Elefun by Hasbro? Amazon win the prize for the current lowest selling price - £12.34 - with Play, Debenhams and John Lewis coming up a very close second.
My youngest son has Elefun; we all - that's me, his dad, him and the Teenagers (who are 16 and 17 today) - love playing it although it does tend to bring out the family competitive streak somewhat.
If you've never played, or seen it, before I can tell you it's cute! The principle is very simple: an elephant shoots butterflies out of his very long trunk and you have to catch them in your net; the person who catches the most butterflies is the winner.
I've read mixed reviews about Elefun from various sources - some say it's rubbish and their butterflies don't fly out of the trunk properly, others say it eats batteries - well that's true; get some rechargeable ones, you'll save yourself a ton of cash - it'll be worth checking out my battery review from yesterday!
I've had nothing but fun playing my youngest's Elefun - maybe the 'complainers' just had dodgy ones...?
Happy butterfly catching!