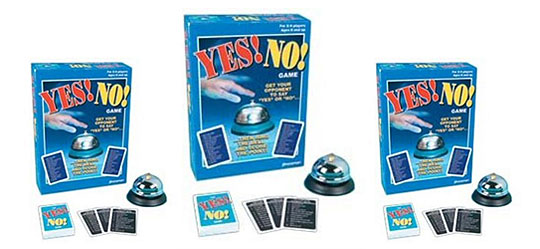 I love playing along with the Yes No game whenever it's on the radio (usually Radio One) and as with all armchair participation, I reckon I'm rather good at it.  On that basis. I'm rather tempted to buy this Yes No game from Play, TO play this Christmas and put my theory to the test.
I think almost everyone knows how to play the Yes No game but just in case there are a few who don't, here's a quick Yes No game lesson - it will be quick too, it's very simple!
You are asked a series of questions, like, "Do you like chocolate?" or, "Do you think Gary Barlow is a rubbish judge on the X-Factor?" (I made that one up, I promise that won't be a Yes No game question, not for this edition at least) and you have to answer without saying yes or no.
It sounds easy peasy, but you have to keep your wits about you at all times or, before you know it, you'll have said the forbidden words and your turn will be OVER.
This Yes No game comes with a set of question cards and a bell for DINGING when someone says yes or no.  Play are selling it for £5.99 instead of £8.99 and would make a great stocking filler and game for after Christmas lunch.
The age guide says 8+ years - I don't agree with that; my youngest would be tickled pink trying not to say yes or no to questions, so I'm going to ignore that little recommendation and play it with him regardless.
Happy NOT saying yes or no!