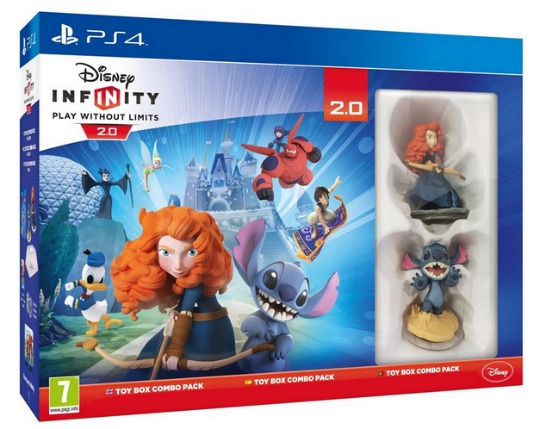 Disney Infinity is one of those toys that Disney Store refuse to include in any of their offer or sales, that suggests to me that is not only good but insanely sought after. When you own a gaming console, you might want to avoid the blood and guts type games if you have little ones about, and that's when game set ups like Disney Infinity comes in. Get the Disney Infinty 2.0 Toy Box Combo from Smyths for just £34.99, reduced from £49.99.
Disney Infinity 2.0 Toy Box Combo comes with two New Disney Originals Figures, Merida and Stitch who are compatible with 2.0 Video Game Software, Disney Infinity 2.0 Base, Disney Infinity 2.0 Webcode Card that can unlock content online, Disney Infinity 2.0 Poster and a Disney Infinity 2.0 Video Game.
I am not quite sure how it works to be honest, but I will hazard a guess and say when popping the physical character toys onto the base they become included into the video game. Feel free to enlighten me, if I have got the concept incorrect.
The Disney Infinity 2.0 Toy Box Combo is NOT available to purchase for home delivery but you can click and collect from your local Smyths store.
Thanks to oUkTuRkEyIII @ HUKD