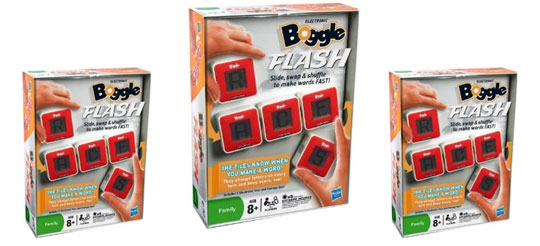 Fans of the original Boogle game are definitely going to like the new 21st century version - Boggle Flash! They'll also like that it's currently half price at Amazon - £12.50 rather than £24.99.
Writing for PlayPennies is costing me a fortune this year!  I've found some great things, bought some great things and just when I think it's all over I come across MORE great things - this Boggle Flash game being one of them!
We love words in my family; Scrabble isn't just a game to us, serious bragging rights go to the winner of a game played against family, and Boggle Flash is going to be exactly the same.
I used to play the original Boggle (you know, the one with the 16 dice inside the plastic cube) with my cousins and I've just ordered this Boggle Flash game to play over Christmas (just 17 days away); my husband is flying home from South Africa (a bit of a Scrabble fiend) and my parents are flying in from Italy (also Scrabble fiends), I'm going to get some practice in with Boggle Flash before they arrive!
So, there are five digital cubes that display letters and you have to arrange them into as many words as you can; the blocks know when you've spelled a correct word and will even keep score for you - you've got 90 seconds to make as many words as you can.
You can play with just four of the cubes too if you're playing with younger players and there are three modes of play.
Boogle Flash, having read the reviews, is AWESOME; it's fun for the sake of fun and would make a great learning tool for younger kids learning to spell.
Thanks to jojotall at HUKD