Up To 50% Off Games @ Marks And Spencer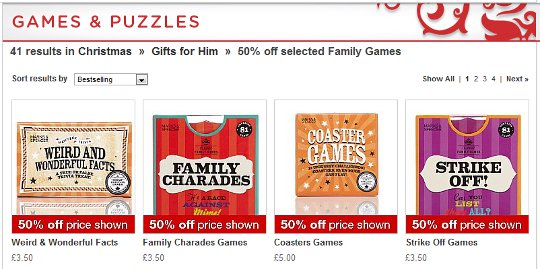 Marks and Spencer are currently selling a selection of 41 games with two different discounts running – some of the games are 50% off and some are included in a 3 for 2 mix and match.
So say you buy the Wallace & Gromit Rocket Race Game for £15 and the 3D Family Games Compendium for £15 and you add the Panini Table Football for £19.50, you'll receive £15 off the first two games, but it doesn't look as though you'll get the 3 for 2 offer. You will, however, get free delivery (takes care of £3.50) and your order total will be £34.50.
If you buy the Crazee Cube, the Metal Puzzle (both of which would make excellent stocking fillers) and some Terry O'Neill playing cards, your order total would be £16.50, but the cheapest item would be free – the playing cards  were £3.50 – so your order is now £13.  On this you have to add delivery unless you're picking up in store though.
Your best bet is to have a play around then, and see whether it'd be better for you to go for the 50% off offer, or the 3 for 2 offer, and if you're picking up in store, to perhaps do two transactions.
Happy playing!
Thanks to sancho1983 at HUKD