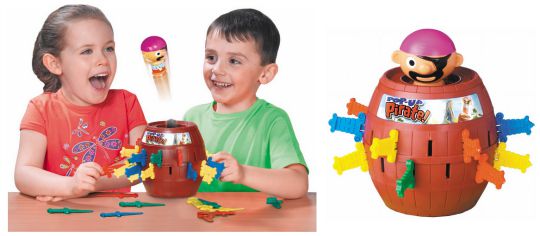 Every Christmas in our household we buy a new game that we can play as a family, we tend to get a game for the younger children and one for the elders. I have been looking at the classic games I had as a child to get for us to play with our daughter and I came across the classic game Pop-Up Pirate. I was so chuffed as I know she will love this game and was even more pleased when I saw the price was just £7.99 (normally retails at £12.99) for this TOMY classic at Amazon right now.
I think we are all probably familiar with the premise of this game, basically you have to push the swords into the barrel and wait and see which one will make the pirate pop out of the barrel, its a case of who can hold their nerve the longest. I remember as a child even though I knew the sound of the pirate popping out of the barrel was coming, I still managed to jump out of my skin every time! This is sure to be a hit with the family at Christmas time, perfect game for young and old. It is suitable for 2-4 players and is not suitable for children under 36 months.
Home delivery is free if you spend over £20 or are an Amazon Prime member, otherwise delivery starts from £3.30.