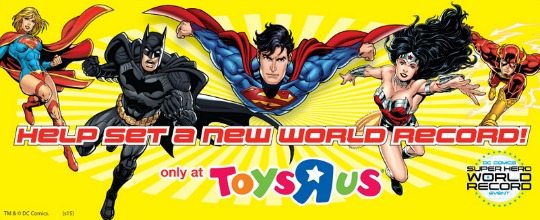 Are your kids superhero fans? Do they want to be part of a world record breaking attempt? This Saturday 18th April Toys R Us are attempting to break the world record for the largest number of DC Superheroes in several places! This means yes to Superman, Batman, Wonder Woman and The Flash, but not Spidey or any of the Marvel crew (boo!).
The event is going to be a big one, with lots going on all day, and the four stores taking part are Oldbury, Warrington, Brent Cross and Cardiff.
Toys 'R' Us have teamed up exclusively with DC Comics to bring you this event on the 18th April 2015 and we are the only store in the UK to be hosting this superawesome event.

They are aiming to get the highest number of DC Superheroes at several places at the same time. To be counted as part of this World Record you must be dressed as a DC Comics Superhero.
We are inviting families, kids, grown-ups and fans to come dressed as their favourite DC Comic Superheroes and set a new world record!

Guinness World Records will be there and event organisers Warner Bros are putting on a great show with activities, photo opportunities, game stations, Lego tables,  characters and entertainment for all the family. You'll also be able to play the LATEST Lego Batman game!

Don't worry if you don't want to travel as your chosen Superhero – we'll have dressing areas in-store. It's set to be an amazing day out and EVERYONE IS WELCOME to be a part of it and set a new World Record.
The events are on between 9am and 2pm, with the actual count taking place at 11am. You need to register for the event for it to count as part of the world record attempt and you can do so on the link above.
It says the whole family can take part, so get the Dads to put their pants on over their trousers and go as Supes. ;) Oh, and it's free. Have fun!