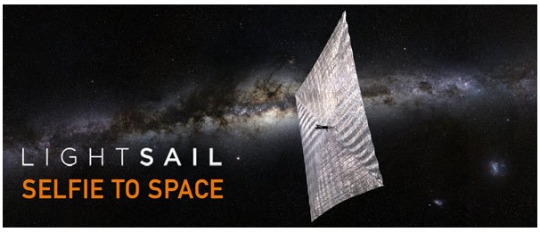 This is the best freebie I have seen for ages! The Planetary Society is an American group who promote space exploration and science, and although you can donate if you wish, this project is completely free. It's Send Your Selfie To Space! I'll let them explain it:
Join us in the adventure of space exploration and send your selfie to space aboard our 2016 LightSail mission! LightSail is designed to demonstrate solar sailing, using the momentum of sunlight to propel small spacecraft through space. Submit your selfie and be a part of the world's first citizen-funded solar sail adventure.
You just submit your selfie picture, and it gets sent to space on the LightSail mission. Just to recognise your involvement you can print off a Personalised Certificate Of Recognition as well!
My kids have got involved in one of these projects before, which is why I got an email about this new mission. Both my boys have their names on a space capsule that landed on a comet (Benuu if I recall correctly?).
If your children love space and science, or you want them to get excited about it then this type of project from The Planetary Society is a great free way to do it.
Better be quick - launch is is 7 days!