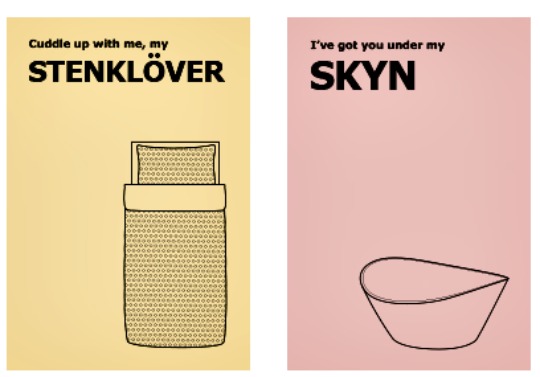 Valentine's Day too sugary sweet for your tastebuds? We have found some cards that are ever so humorous and quirky. They are from Ikea and are completely FREE. All you need to do is click the link below and select which funny card you wish and then print it off.
When I saw these I had a real good chuckle. These are akin to my humour and I would see the funny side if my other half handed me one of these. That's not to say your would. You could always give one to someone you aren't too keen on or send one to the mother in law as a joke.
My personal favourite is "I've got you under my Skyn". The regular words in these sayings are replaced by the style name of various pieces of Ikea furniture and homewares.
If you know someone whose house is kitted out with Ikea flat pack furniture or someone who shops there a lot then this is sure to make them giggle.
Others you can choose from are "You make me feel warm and Sensuell", "You fill me with Ljust" and more.