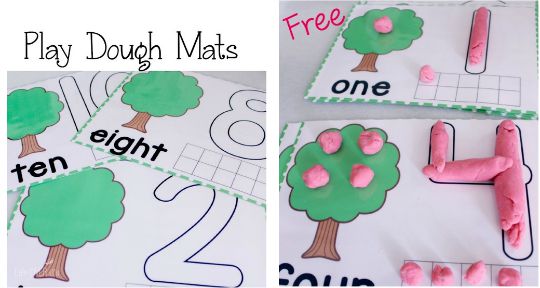 Becky spotted this super free printable that looks fun and educational. They are Play Dough Counting Mats that are free to download and print that will help with counting skills.
One you have downloaded and printed off your Play Dough Mats the best thing would be to get them laminated to keep them in one piece and make them reusable and easy to clean. If you cant get them laminated then slipping them inside a page protector will work too.
Each page has a number shape that can be filled with rolled out dough which helps develop the fine-motor skills required for writing, in addition to teaching little ones number formation. Children can also trace the letters with their finger, dry wipe marker or crayon.
Then they can put the same number of flowers / apples / fruit on the tree to represent the numbers, and also fill in the ten-frame box at the bottom of the page to show the same number.
These would work really well as a home activity during the holidays, or to reinforce learning from playgroup, nursery or reception. And for younger children just getting familiar with the numbers will help.