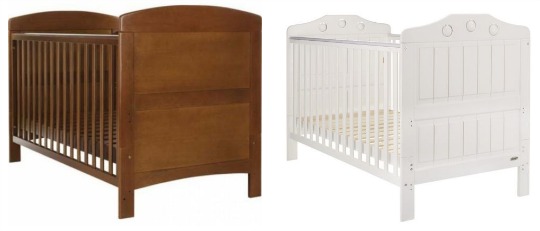 Getting a cot or a cot bed for your new baby is one of the big purchases, so if you can make a saving on that it really helps. Tesco Direct have an offer where you get a free Obaby mattress with selected Obaby cots and cot beds, saving you between £34.99. There are several different cots and cot beds to choose from, as well as mattresses to fit, though at the moment I can only see the Cot Bed size mattresses rather than the smaller cot size, and until they are back in stock you can only take up the offer on the cot beds.
Prices for the cot beds start at £149.99, and that will include the free mattress and free delivery as well, so that is a really good price. They work out at value as they can be used from birth until your child is around 5 years old, so you don't need to buy a separate toddler bed.
Tesco have an offer of free delivery on all baby orders over £29.99 so that also saves you the extra charge for furniture delivery. The last time Tesco ran this offer they sold out very quickly, so keep that in mind if you're thinking of getting one. The website does state that the offer is on until 22nd July so there's a chance that out of stock items will become available again before then.