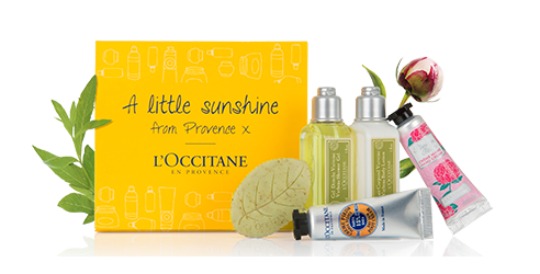 This is a fantastic freebie, with no purchase required to get it. If you have never tried L'Occitane before then you can just sign up to their mailing list on the link below, and then 24 hours later you should receive an email with your voucher and instructions of where to collect your gift. How great is that?
You have to visit a L'Occitane Boutique to collect your free gift, and this is the independent stores themselves rather than the concessions within department stores. You select which boutique you will be visiting when you request your lovely freebie.
This is what you get in your free gift:
Verbena Leaf Soap 25g
Verbena Shower Gel 30ml
Verbena Body Lotion 30ml
Pivoine Flora Hand Cream 10ml
Shea Butter Foot Cream 10ml
Sounds like a lovely little gift full of luxury products, and all you have to do is ask for one and go and collect it. It couldn't be mush simpler. Enjoy your free gift from L'Occitane!