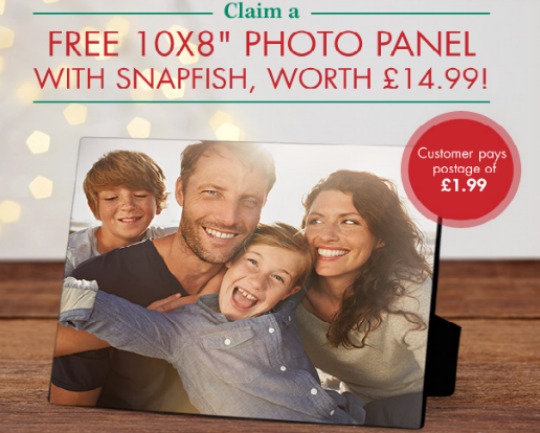 If you are looking for a stocking filler with a difference or a little extra gift for the Grandparents then you are going to LOVE this deal. The Daily Star on Sunday featured an exclusive deal with Snapfish: a FREE 10x8" Photo Panel. This would normally set you back £14.99. It isn't completely FREE though, as postage and packaging is at a cost of £1.99, but I am sure you agree that this is still an amazing bargain!
It is really simple, just click the link above and fill in the form on the webpage, or login, if you have an existing Snapfish account. It'll then bank the promo code needed to get the photo panel for FREE.
You just need to select the 10x8" photo panel, don't worry that it says £14.99, as this comes off once you're finished. Just select a nice Christmassy photo or a fanily pic and upload it to your Snapfish account.
It is as easy as that! Once at the checkout, your £14.99 charge is deducted and £1.99 postage and packaging charge is applied.
Just think of the smiles this present would get come Christmas Day!
Thanks to Miss Gem @ HUKD