Up To 50% Off And Free Delivery @ BHS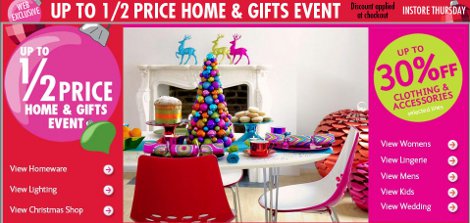 Well, BHS have a plethora of sales and offers on at the moment, with a web exclusive (for tonight) up to 30% off on clothing and accessories, and up to 50% on homeware and gifts as well as a free postage code.
So what does the 'up to' mean? Well, it's 20% off on cookware, 30 % off on towels and 50% off on bed sets and cushions – perfect for some wintertime redecorating in darker colours and cosy snuggle-in-front-of-the-fire-cushions.
Chandeliers and table lights can be yours for up to 50% off, and easy fit lights can change the mood of a room entirely for 20% less.
BHS have a variety of discounted lines of clothing and accessories too, such as 30% off shoes, boots, dresses, skirts and knitwear, and 20% off coats and jackets – and if you're getting married there's 30% off most of what you need for that too.
Kids get 20% off on pretty much everything, as do men, so there are discounts to be had by all the family.
And once your shopping basket is full and discounts are applied at checkout, you can also add the code BHSHGFREE for free delivery. That sounds pretty fantastic to me! If you miss it tonight, the discounts will be available in store from tomorrow too!
Thanks to Robbie Smith and Foodie06 from HUKD