FREE £5 Argos Voucher When You See Avengers: Age Of Ultron @ Vue Cinemas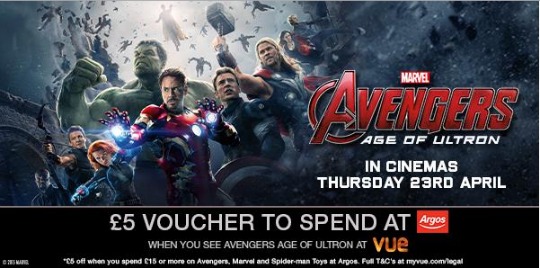 Avengers: Age Of Ultron is out in cinemas in a little over a week's time, officially on 22nd April, but there are midnight showings on the evening of 21st April in lots of cinemas. If you are going to see it at Vue Cinemas you get a little extra - a voucher for £5 off when you spend £15 on Avengers, Marvel and Spiderman Toys at Argos.
You can still book in advance for the film, and you really should, as it's going to be really huge, but you just need to collect your tickets at the box office to pick up your voucher not the automated collection points. The voucher is one per transaction, not one per customer, so if you need more than one voucher you will need to visit the box office separately.
Unlike the previous Cinderella promotion which was only valid on a few toys, this has only two restrictions - Lego and Single Disney Infinity 2.0 Figures. This makes it a much better deal, as does the fact that there is such a massive range of Avengers, Marvel and Spiderman toys for sale at Argos.
You can find all the promotion's terms and conditions here*.
Just a quick clarification about the film's certificate - it's a 12A, which means that although 12 is the recommended age, children under 12 can be admitted as long as they are accompanied by an adult over 18.