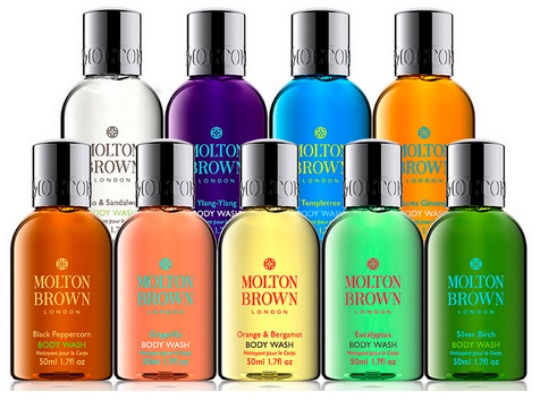 Molton Brown have a sale on! Woo hoo! They are a luxury toiletry brand so when they shave some money off, 25% to be precise, we can't help but get excited. Whether you are treating yourself or buying as a fancy gift, the recipient will be pleased with what they get. Molton Brown are offering FREE delivery on every order from now until Sunday. That's not all they will gift wrap your items in such a pretty way and they will hand write a special message to put in with our present.
Another great perk when ordering from Molton Brown is that they give you a choice of four FREE samples. These are usually 50ml bottles of hand wash, body wash or body lotion.
If you are unsure of the scents that Molton Brown produce then a good first purchase might be this Molton Brown Global Body Wash Collection*. It's just £19 now, reduced from £23. You get a total of nine different body washes all in 50ml size.
Spend £35 or more and you get to choose a FREE 100ml Molton Brown product. Just enter the code LOVEMB35 at the checkout.