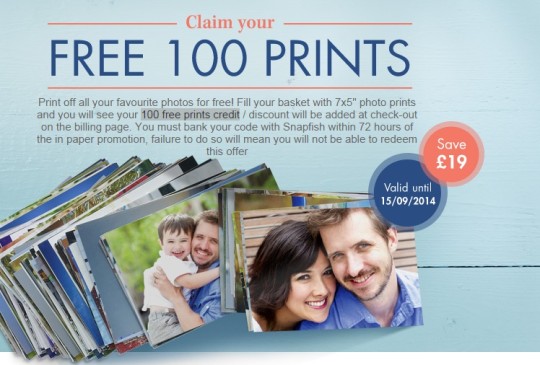 Snapfish and the Daily Star are offering 100 free prints of your 7x5" photos.  You do have to pay delivery of £1.99, increasing incrementally with the amount of photos you order.
Click here to register with Snapfish for your free prints*
Print off all your favourite photos for free! Fill your basket with 7x5" photo prints and you will see your 100 free prints credit / discount will be added at check-out on the billing page. You must bank your code with Snapfish within 72 hours of the in paper promotion, failure to do so will mean you will not be able to redeem this offer
This being Sunday's paper, I expect you have to 'bank' the promotion before Wednesday.
To 'bank' it, you need to register on the page (click the link above)
You bank the code by clicking on the redeem link in the email they send you and then entering the code when prompted. Once you've done that you can see it as a credit in the "your account" section.
Thanks to Twinthirty and Petal at HUKD