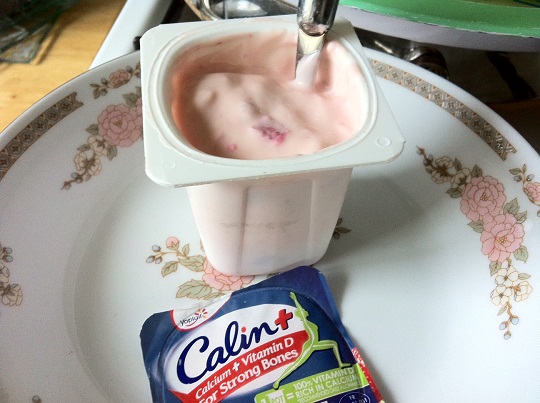 Yoplait is a brand I tend, rightly or wrongly, to associate with yoghurts for children. So when Yoplait asked if I'd like to take a look at a new range they had out, I assumed it was for my son. After all it was all about healthy bones and vitamins.
I was wrong though. Cal-in+ is a brand aimed at grown ups (£2 for 4 x 125g pots). Most specifically at women, as we need to look after our bones and calcium more than the guys do. That doesn't mean the guys should shirk on this though! You will suffer bone loss in old age too.
Yoplait also recognised that very little food in the UK is supplemented with Vitamin D. Now this is a vitamin that's crucial for our bones, and our well being, but we get it mostly from the sun. And I don't know what the UK ever did to the sun, but it really doesn't seem to like us much.
Go to someplace like the US, and you'll find Vitamin D in all sorts of places, particularly milk. Is this a good thing? Well if you like your yoghurt, and you feel you need a vitamin top up, then Calin+ might be a good option. If it tastes any good that is...

One pot of Cal-in+ has 100% of your recommended daily allowance of Vitamin D, as well as a whole pile of calcium. According to the website, Vitamin D is required for your body to absorb calcium, and fix it in bones.
The yoghurts come in three flavours: strawberry, cherry and vanilla. The yoghurts aren't recommended for children under the age of ten as the levels of calcium in the pots have been formulated to meet the higher needs of adults.
Not that it is a problem keeping my son out of them. The yoghurt has bits in it, which according to a seven year old boy, is the same as poison. Are there any children out there who like bits in their yoghurt? I wonder why the find it so repulsive? If you're looking for something with added Vitamin D for children then Yoplait also put it in Petits Filous and Frubes Fromage Frais.
Unfortunately they only had the strawberry and cherry flavours for me to try. I was a little disappointed as vanilla is my favourite, but still, strawberry is a close second. I really do not like cherry though.
I didn't find these yoghurts that fruity though. The flavour was more subtle than that, so the cherry flavour wasn't over powering and I quite enjoyed it. The texture of the yoghurt is smooth and creamy, with good sized pieces of fruit. I found it a little sweeter than my normal brand, but that's not a minus unless you don't like your yoghurts sweet.
There's 15.6g of sugar in a pot, which surprised me as it is only just .2g more than my normal brand of yoghurt. It must just be a matter of the different flavour. Incidentally, that's just over 5 teaspoons of sugar, and if that's a shock for you, then you'll find that's pretty much how much sugar there is in most yoghurts. A good reason to eat them with other food, and brush teeth after.
To better estimate the sugar in the food you and your children are eating think of it in teaspoons - there's roughly 5 grams of sugar in one teaspoon - and then imagine you letting them sprinkle that much on their cereal.
I really enjoyed the strawberry Cal-in+, and if I liked cherry I'd probably be able to say the same about that flavour too. But I think my favourite here might be vanilla, and I'm just going to have to go out and buy some. The good news is that Sainsburys has Cal-in+ on special offer - reduced from £2 a pack to £1. I have no idea how long for though!
Pros: full RDA of Vitamin D
Cons: otherwise the same as most other similar yoghurts
Overall verdict: 9/10