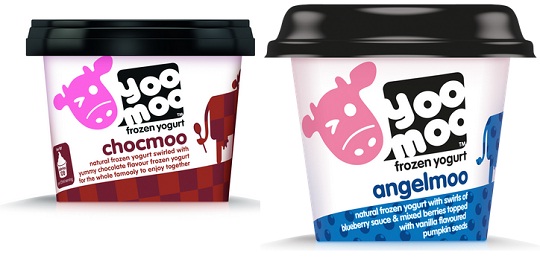 About a year ago I had a frozen yoghurt epiphany. I went to a Yoo Moo concession, and had a Yoo Moo frozen yoghurt sundae. I can honestly say, hand on heart, that I never expected frozen yoghurt to taste so incredibly delicious.
I went with two friends, and we all got a different sundae. They were huge, and tasty, and so filling that we didn't end up having dinner that night! So, I was hugely excited to find out that you can buy Yoo Moo frozen yoghurt (£3.49 100ml)  in the shops. My son is also a big yoghurt fan, and a big ice cream fan. Would this tempt him away from his ice cream addiction?
Yoo Moo was founded, and is run, by two young friends Amanda and Sam who fell in love with frozen yoghurt while in the US. Or fro-yo as they apparently call it over there. The goal was to make healthy, guilt-free frozen yoghurt from British milk.
There is a Yoo Moo yoghurt bar in Blackpool but otherwise all the other yoghurt bars are in London I'm afraid. Just as well then that the range of frozen yoghurts can be bought in Tesco, Sainsbury's, Morrisons, Waitrose and Asda.
There are seven flavours. My son went for Chocmoo, mostly because I think that was the only flavour he really recognised. I tried the Angelmoo.
Chocmoo is the natural yoghurt swirled with chocolate. The site says that it is ideal with something sweet but to be honest I couldn't think of what it would go with. A pudding perhaps? For little tastebuds the natural yoghurt flavour came through too strongly I think. Having said that though, for all that this he loves yoghurt and ice cream he loathes anything new in the way of food. So I shouldn't have been too surprised he didn't want to eat more than a spoon. More for me then!
Angelmoo is a natural yogurt with swirls of tangy blueberry sauce and freeze-dried mixed berries, topped with vanilla-flavoured pumpkin seeds. Oh yes it sounds totally bizarre and it is in a way. I really enjoyed it and would easily make it a breakfast treat.
Overall though, I found the yoghurts to be nice, and tasty, and I enjoyed eating them. But they didn't knock my socks off, and they just do not taste as good as the yoghurt you get in the yoghurt bars.