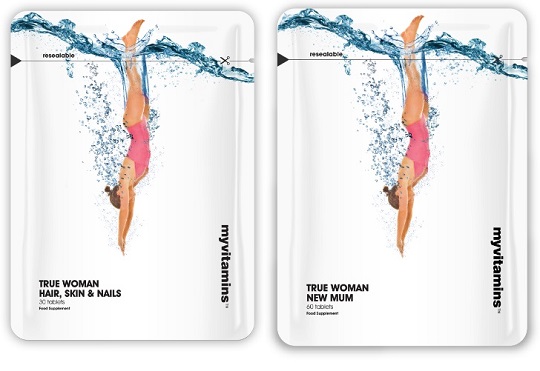 We can all do with a little vitamin boost now and again. Like during pregnancy, or when we are feeling the effects of a long winter, or just to make sure that the kids are keeping their strength up.
My Vitamins* has a whole range of supplements that appear to be suited to busy families, and mums in particular. They sent us seven of these to try out. To find out what we received and how we got on, read on!
In a way reviewing health supplements is next to impossible. I can't test each tablet to see if they contain the ingredients that are claimed as I don't have a lab. Or any scientific knowledge!
Also, there isn't the scope here to test each supplement alongside another and do a comparison. Or the time.
All the vitamins we received came in resealable pouches instead of bottles, which is unusual. However, for slipping into your handbag, they're ideal. For example, you may want to take your folic acid supplement (necessary during and just before pregnancy) with lunch. I know I did as there were just too many other things I had to take in the morning, and I wasn't always at my best then.
Let's start with the pregnancy supplements. I gave these to a friend who is just a few weeks along. So far we're a month in and of course it is too early to say whether or not they were beneficial!
On the Essential Folic Acid (60 tablets, £3.49) she thought the price worth paying for the tiny size of the tablets! Her usual brand from the chemist was cheaper, but a lot, lot bigger.  The True Woman Pregnancy Care (60 capsules, £4.49) were next, and here it was a lot harder to tell the difference over such a short test time. These also contain Folic Acid (200% of the RDA) so you probably won't need both. The tablets are bigger in size, but combining the price of her usual folic acid and multivitamins, plus taking two tablets, our tester said she'd rather take just the one.
Active Kids Omega 3 Chewy (30 softgels, £4.49) went down well with our two test subjects aged 5 and 9.  Mum was pleased that they were happy to take them, and liked the flavour, as the other chewy Omega 3 supplements she had tried were still too fishy for her boys to stomach. That said, she wasn't happy with just getting 30 in the pouch. That's only half a month's worth for two boys. A 60 tablet version would be appreciated. At the moment you can get another 15% off using voucher code KIDS.
To be honest I was left unclear as to the difference between Vitamin D and D3. The Essential Vitamin D3 (60 softgels, £2.49) was perhaps the best value out of all the packs we received. The last couple of years Vitamin D has been a regular supplement in our family, simply because there's just not been enough sunlight. You need vitamin D for a lot of things, particularly growing strong bones, so essential for growing children. This is one of the few vitamin supplements even doctors say you should take, whereas our diets are more than adequate for all the rest (except folic acid if you're pregnant).
The Complete Woman New Mum supplement (60 capsules, £7.99) seemed rather expensive to me, but you do get a large number of vitamins and minerals. This is one month's worth as it recommends taking two tablets a day. The aim is to replace all the nutrients that you may have lost in pregnancy or may be losing while breastfeeding/being too tired to look after yourself. This is one supplement I would definitely have opted for when I first gave birth. Maybe I didn't need the boost, but it feels reassuring and that's just as important. But also, the slim pouch would have been perfect to slip into the change bag, which means I'd always have them to hand for that one quiet moment I might remember to take one no matter where I'd be!
If you're not pregnant or just given birth then there's the True Woman Original pouch (30 capsules, £6.49 plus, at the moment you can get 30% off using code CLEARANCE). Each tablet provides an optimal blend of vitamins including A, C, E and D as well as a variety of minerals including Zinc, Calcium and Magnesium.
And last but the one I've been personally trying out is True Woman Hiar, Skin and Nails (30 tablets, £4.99). Now, I can't say that this is magic, or that it has worked wonders. But it has been nearly a month, and I swear that my nails are looking healthier. At the moment there's no change in my hair but that's long and thick so make take a while! Two zits means that either it is working and that's my skin getting rid of toxins, or it isn't working. Again I'll have to update!
Positives are that there's already a noticeable difference in my nails, the pills are slim and really easy to swallow, and the pouch is a much better storage option.