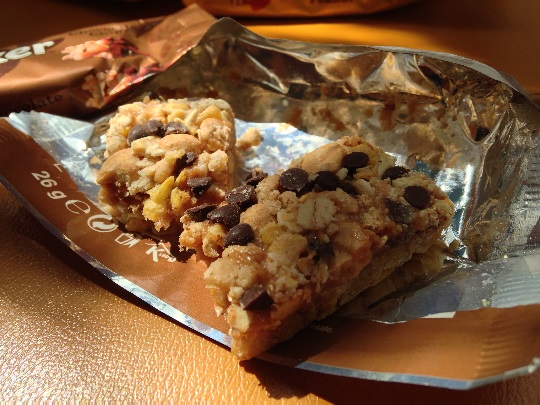 Snacks. Do you go anywhere without at least something to nibble on and a juice box in your bag? I know I don't. There's nothing worse than a child with low blood sugar levels unless that same child is also thirsty.
Tracker Bars look like a good option. Smallish, lots of energy boosting ingredients like nuts and oats, and available just about everywhere. We received some samples of all three available flavours to try out. Read on to find out more!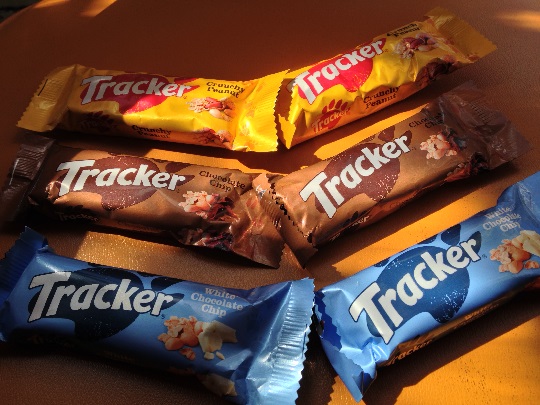 Each bar is 26g, and you've the choice of three flavours. Chocolate chip, crunchy peanut, and the new white chocolate chip, priced at 50p per bar or £1.99 for the multi pack. This price can vary though depending on where you buy them. From very bitter experience, avoid concession outlets in under ground tube stations in central London. You'll pay a lot more than 50p.
The bars are made up of 'layers' of chewy oats or crunchy peanuts, and toppings of chunky chocolate chips. The bars are free from artificial colours, flavours and preservatives.
Nutritionally, each bar has around 8g of sugar. This equates to roughly four and a half teaspoons of sugar. Now if you think that's a lot to put in your tea let alone a snack bar, you might not be wrong. These are very sweet tasting bars. However, to put this into perspective, the average Milky Way bar (21.5g) has 14g of sugar in it, which is just under 8 teaspoons.
What I like about Trackers myself is the mix of chewy and crunchy. Especially the chewy. I thought the chocolate chips were a generous size. I didn't really taste much of a difference between the three bars though, even with the chocolate chips.
We also tried the samples out on a teenager (aged 14 years) and an 8 year old. The 8 year old only took one bite and refused to eat anymore. They didn't mind the taste as such but are still at that hugely picky age and found the texture a bit off putting. The 14 year old just sort of breathed in and the bar was gone. At this small size I don't think that these are much of a snack for a growing lad!
Clearly then I hadn't chosen wisely when it came to testers. Personally, I'll opt for one of these bars when out and about. Although I try to keep things like sugar and refined flour out of my diet, there are times when you need a cheap, easy energy boost. If you're a new mum then you'll probably call a Tracker Bar lunch rather than a snack. Still better I think than a digestive biscuit (mainly because I was never able to stop at just one or two from the packet).
Pros: good energy boost, small size, chewy, good amount of chocolate
Cons: rather sweet, not all children like the rough texture, older children may find them too small
Overall verdict: 9 / 10